Published: May 27, 2014
HAUPPAUGE, NY | On May 16 Nordmeccanica celebrated the grand opening of the new location for Nordmeccanica Vacuum, the Group operation producing metallizing machinery for the plastic films and paper industry. Nordmeccanica purchased the rights and technology of the Galileo business at the beginning of 2013, and in just over one year Nordmeccanica Vacuum completely redesigned and re-engineered the Galileo metallizers product line to reflect what it says is "the renowned Galileo experience under the Nordmeccanica quality, integration, and innovation guide lines."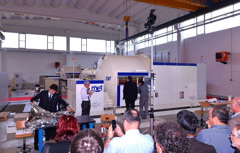 In the same time frame, the company built a new 65,000-sq-ft facility in the industrial park in Piacenza, Italy, where the corporate headquarters of the Nordmeccanica Group is located.
Antonio Cerciello, president of Nordmeccanica, welcomed guests to the grand opening. Following a ribbon-cutting ceremony and banquette, the company presented a Flexible Packaging summit on innovation in packaging. The summit included presentations by Dow, on innovations in adhesive technology; Barilla on innovations in packaging from the perspective of the brand owner; Coveme and Manucor on innovations in packaging from the converter point of view; and Nordmeccanica on innovations in machine design for both the coating/laminating product line as well as the metallizing machinery product line.
The event concluded with a live demonstration of a metallizer at work, reportedly showing guests the ease of use, ease of maintenance, quality of the final product, and production performance resulting from a combination of the machine speed and quick changeover cycle. Guests were then presented with samples of the actual job, a pattern metallized film.
This email address is being protected from spambots. You need JavaScript enabled to view it.