Published: December 31, 2013, By Claudia Hine
As the PFFC staff looks back on the new technology we covered in 2013, it's no surprise to find a diverse list of products caught the attention of our readers. From roll-to-roll printable organic photovoltaic energy cells to a magnetic levitation UV LED printer, subscribers to PFFC's E-Clips e-mail newsletter clicked on the items that most captured their interest. We counted those clicks to bring you our annual review of the top ten new products of 2013.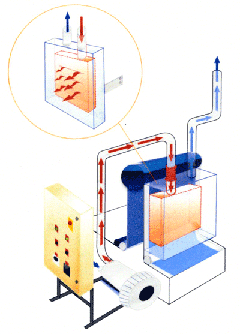 Drum roll please…
HEAT TECHNOLOGIES' ACOUSTIC DRYING SYSTEM
Heat Technologies Inc., Atlanta, GA, offers the Spectra HE Ultra Drying System that provides advanced convective drying technology for ink, adhesive, water, and other solvents. The acoustic system organizes oscillating flows into one powerful stream and directs this stream onto the material. The company reports its customers have been able to increase web speed by 50% to 70% without compromising quality. The dryer is said to offer environmental benefits by broadening the use of water-based ink and reducing energy consumption. Compared to conventional dryers, this equipment reportedly uses up to 75% less energy.
CLEAR LAM PACKAGING'S LIDDING FILM
Clear Lam Packaging, Elk Grove Village IL, developed new Peel and ReSeal Lidding Film that helps reduce package weight by up to 32% compared to preformed rigid lids; improve shipping cube; and allow for more product on the pallet to reduce transportation and warehousing costs. In addition, the Peel and ReSeal system eliminates shrink bands and thermoformed lids so it is easy to open and close. Applications for the new Peel and ReSeal Film include prepared meals, meats, cheeses, snacks, candies, and baked goods. Developed for multi-use applications, the new tamper-evident Peel and ReSeal Lidding Film is hermetically sealed and opens easily and reseals to the package with a light touch, offering consumers reliable access to the product. The lidding also allows for use of modified atmosphere to extend shelf life.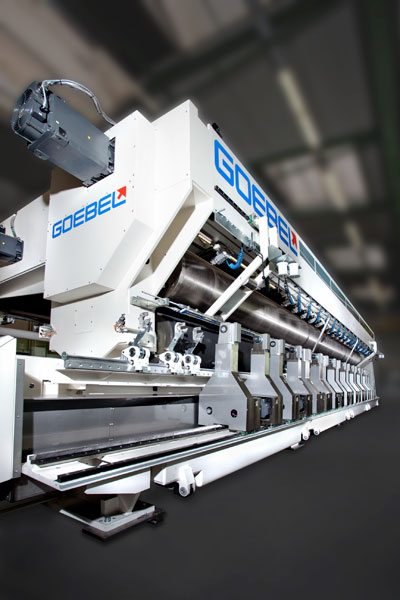 CONTACT COMPANY
GOEBEL'S SLITTER/REWINDER
Goebel, Darmstadt, Germany, introduced the Monoslit Giant slitter/rewinder that converts film webs to 12,000 mm wide at 1,500 mpm. It features a razor blade cartridge that automatically exchanges the industrial blades used within a short period of time and offers faster changeover times, greater safety, ease of operation, and an increase in productivity.
Unwind diameter is to 1,550 mm, rewind diameter to 1,250 mm, and minimum slitting width to 300 mm.
IQDEMY's Magnetic Levitation Printer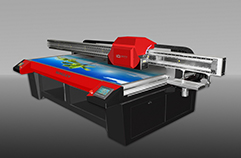 IQDEMY, Novosibirsk, Russia, offers the Swiss Maglev (magnetic levitation) UV LED printer that features Ricoh Gen5 printheads. It offers an automatic ink recirculation system said to extend the life of the printheads; an automatic material positioning system and vacuum table to prevent material shifts during printing; roll-to-roll feed system for printing on flexible materials on rolls; automatic safety system that prevents printheads from coming into contact with curved parts of substrates; and automated cleaning and thermal stabilization of the ink system. Substrates such as films, foils, Styrofoam, wax, polyester, aluminum, and more can be printed at speeds to 150 sq mph in draft mode.
This email address is being protected from spambots. You need JavaScript enabled to view it.
Acucote's Thinner BOPP Films
Acucote, Graham, NC, added thinner biaxially oriented polypropylene (BOPP) films to its product line. They offer raw material cost savings, potential efficiency cost reductions, and an improved environmental footprint. Prime label offerings include the 2.4-mil White Topcoat and the 2.6 White Vision Gloss Topcoat. The 2.4 mil White Topcoat is said to be a cost-effective substitute for company's current 2.6-mil White Gloss Topcoat. The 2.4 mil maintains the same opacity and topcoating as the 2.6 mil. The 2.6 White Vision Gloss is a mid-gloss option between high-gloss and matte finish facestocks.
AVERY DENNISON'S WINE FACESTOCK

Avery Dennison Corp., Mentor, OH, introduced the Aqua Stick Portfolio that features Z3338, an advanced emulsion adhesive said to enable sparkling wine and champagne brand owners to effectively utilize pressure-sensitive labeling materials on surfaces with heavy condensation. The Z3338 adhesive reportedly provides in-line, wet-applied label positioning that improves operational efficiencies, including reduced line downtime and less product obsolescence.
This email address is being protected from spambots. You need JavaScript enabled to view it.
TRESU's Chambered Doctor Blade, Ink Supply System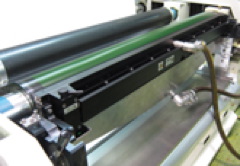 TRESU Group, Kolding, Denmark, introduced a range of chambered doctor blade systems that are said to ensure a uniform, smooth, splash-free, and uncontaminated laydown of flexographic inks and coatings in the anilox roll cells, preventing microfoaming and blistering. Together with the ink circulation systems, they are also said to enable accurate pressure, flow, and viscosity control, efficient temperature regulation and cleaning, fast blade changeover, and airtight sealing of the chamber. The systems are suited to printing speeds to 500 mpm and cover all narrow and mid-web flexo printing and coating applications.
This email address is being protected from spambots. You need JavaScript enabled to view it.
Davis-Standard's Extrusion Coating Line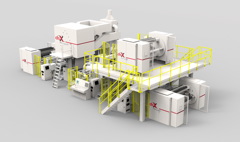 Davis-Standard, Pawcatuck, CT, offers the new dsX flex-pack extrusion coating line said to provide converters and package printers with the capabilities and flexibility needed to ramp up and compete effectively for a variety of rapidly emerging application opportunities. These include salted snack and noodle bags, toothpaste tubes, sachet packs, personal care products, condiment packs, and standup pouches. This pre-engineered line includes flexible packaging unwinder; corona treaters; extrusion laminator; gravure primer coater dryer; pull roll with nip; winder; company's electrically heated, air-cooled extruder with advanced feedscrew design; and Siemens controls.
AMPAC'S BIODEGRADABLE LAMINATE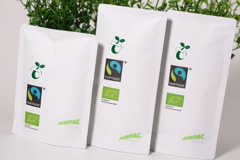 Ampac, Cincinnati, OH, launched BioFlex Pack, a biodegradable laminate for dry products. Developed to service the growing demand in European markets, material composition—including the adhesive—is fully biodegradable and compostable according to European regulation EN 13432 and US ASTM D6400. Meeting industrial compostable standards, 90% of the material will be composted approximately 70 days after disposal. Little to no curing time is needed, which provides an optimized supply chain time reduction of more than one week. Laminate is available as printed rollstock and as premade pouches. Suggested packaging applications include dry cereal or grains, tea and coffee products, powders or tablets, and wholesome or natural products.
This email address is being protected from spambots. You need JavaScript enabled to view it.
HERAEUS' printable OPVS
Clevios PEDOT:PSS technology from the Conductive Polymers Div. of Heraeus, Leverkusen, Germany, was used to produce fully roll-to-roll printable organic photovoltaic energy cells rather than traditional vacuum processed Indium Tin Oxide. Clevios PEDOT:PSS is a highly conductive polymer dispersion that allows the deposition of transparent, thin conductive films with sheet resistances of less than 100 Ohm/sq. The Technical Univ. of Denmark, Dept. of Energy Conservation and Storage (DTU) was able to show that the use of Clevios PEDOT:PSS as an electrode in the layer stack contributes to the thin, lightweight, and flexible properties of the OPV device. Also the Clevios material contributes to the low cost of this roll-to-roll produced energy device.
This email address is being protected from spambots. You need JavaScript enabled to view it.
SUBSCRIBE TO E-CLIPS
We are already beginning to tally the clicks for the top new products of 2014. Sign up for a free subscription to our weekly E-Clips e-mail newsletter to stay on top of all the new technology being developed for converters this year.