Published: March 29, 2012
FAIRFIELD, OH | Color Resolutions Intl. (CRI) has been appointed the exclusive dealer to roll out CodeStream from Fujifilm Hunt Chemicals U.S.A., a new aqueous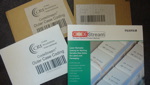 coating used in the marking of variable data including codes, lot numbers, and expiry dates on corrugated, cartons, and labels during the packaging process. CodeStream is applied on-press to corrugated or other paper substrate by the converter and then marked on the user's packaging line by activation with a CO2 laser.
The use of CodeStream reportedly brings cost savings by eliminating the need to purchase consumables such as ink, ribbon, or labels. Without time needed for supply replenishment or unscheduled equipment maintenance, production downtime is eliminated as well. CodeStream is also said to remove VOCs and fluids from the packaging line.
The companies say CodeStream is compatible with all types of paper substrates. It appears translucent on white substrates and is white on clear or kraft substrates. It produces a high-contrast, high-resolution black mark. Because it simply uses laser energy to cause a color change, nothing is destroyed during the marking process.
"The CodeStream mark is consistent, quickly applied, and resistant to counterfeit, says George Sickinger, president and CEO of CRI." "CodeStream is also a technology that is sustainable and eco-friendly."