Published: August 08, 2013
MADRID, SPAIN | Derprosa offers SoFT TOUcH film for lamination, a BOPP film with tactile properties said to protect the print and offer excellent adherence for stampings and varnishes. Glues can be applied either hot or cold for making boxes or cases.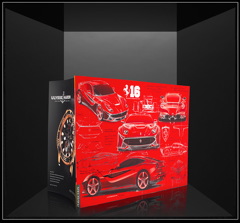 Reportedly, product guarantees the preservation of the "SoFT" coating without losing the velvety feel, offering full resistance to water and alcohol and highlighting colors with an effect that is 50% more matte than a standard film.
The range includes a matte metallic version that allows color printing with metallic effects without the need for metallic inks, and a black version of the film called Elegance Black, that incorporates color directly on the film while maintaining all SoFT TOUcH qualities. It can also be obtained in a special version for lamination on digital printing, with dark backgrounds or a large amount of ink.
This email address is being protected from spambots. You need JavaScript enabled to view it.