Published: December 14, 2012
DALLAS, TX | KBA North America announces that Specialty Finishing, a folding carton and litho-laminated packaging manufacturer in Omaha, NB, has completed installation of its two new large-format KBA Rapida 145 57-in. presses. Since the installation, Specialty Finishing has begun reaping the benefits with double-digit sales increases, higher quality print with consistent color, and significant reduction in start-up waste. Specialty Finishing's two new presses are a six-color and a seven-color equipped with KBA's unique automation and inline quality control features and coaters. These are the first KBA presses purchased by Specialty Finishing.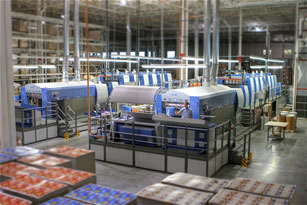 Established in 1927 as a small family-owned print shop, Specialty Finishing has grown to a multi-million dollar operation employing more than 160 people in its 400,000-sq-ft facility with cutting-edge, in-house capabilities.
"We chose to purchase two large format presses from KBA because they could offer the highest level of automation and productivity as well as a custom-configured press for our particular needs," says Mark Wright, Specialty Finishing president. "These presses are allowing our company to continue its rapid growth and offer our customers the highest level of productivity and quality that they expect. We needed the added capacity because we've been experiencing 25% growth year-over-year for the past several years. Specialty Finishing continues to achieve its growth goals by providing quality paperboard packaging to a variety of businesses across our region. The newly installed KBA presses are critical to our future success."
Due to its new capacity, Specialty Finishing has seen an 18% increase in business since the installation, according to Brian Thalken, VP of sales for Specialty Finishing. "We will continue to grow our business at double-digit rates by working with our customers on waste reductions and lean manufacturing," he adds.
The purchase of these new KBA presses increases Specialty Finishing's capacity and flexibility. "This investment in improved technology and increased capacity facilitates reduced lead times and reduced inventory levels," says Thalken, In addition, Specialty Finishing has seen the advantage of complex print forms that no longer require additional waste sheets.
The two new KBA large format presses help Specialty Finishing in other departments. "The acquisition of these presses allow for better flexibility in scheduling and the quick-turn lead times that our customers have come to expect. Both presses run 24 hours a day, seven days a week," says Jeffrey Oles, the firm's scheduling manager. "These presses allow us to remain competitive in a demanding market, plus they provide the needed edge to continue to grow and expand our sales base."
KBA's unique automated features are key components for Specialty Finishing. "Producing quality cartons at the lowest cost in the market stands as one of our primary goals," states Thalken. "Waste reduction is critical, and we believe the new systems on the KBA presses will be key components." Both Oles and Steve Pellman, Specialty Finishing's pressroom manager, agree that the KBA Qualitronic Pro inline sheet inspection system on both Rapida 145 presses is beneficial because of the significant reduction in start-up waste, higher quality print with consistent color, and greatly reduced chances for printing defects.
Another important component on both Rapida 145 presses is the KBA Densitronic Pro, a combined density and color measuring system for quality control both during and after printing. This feature allows reporting on print quality during the production run. "The measurement system allows us to stay at or below industry tolerances for ink making, pre-press, and printing and report this information as needed," says Thalken. "We have run tighter color tolerances and have reduced issues regarding color variation due to the Densitronic Pro."
Site preparation for the two new presses was approximately 12 weeks and the press installation took six weeks. To capture the exciting installation, Specialty Finishing produced a time lapse video of the Rapida 145 57-in. press installation. This particular video comprises about 5,000 shots over a two-month period. Specialty Finishing was featured as a growth industry on Manufacturing Marvels on the Fox Business Network on May 22, 2012.
In the meantime, Specialty Finishing is pursuing additional die-cutting and finishing equipment. "What sets our company apart from the competition is that we understand the difference between can't and won't," says Thalken. "We strive to meet or exceed our customer's current expectations, and this is achieved by investing in new technology, our work force, and in cooperation with our customers. Our goals are aligned with the goals of our customers and are met by working together."