Published: October 01, 2009, By Edited by Claudia Hine, Managing Editor
With today's industrywide downsizing, it takes a lot of confidence in a business model to commit to a major-league expansion. While others are downsizing, Menasha Packaging Co. bucked the trend by going full speed ahead with a carefully planned expansion that included purchasing one of the largest wide web presses in the world and building a 44,000-sq-ft addition to house it at the Menasha PrePrint facility in Neenah, WI.
In announcing the project, Mike Waite, president of Menasha Packaging, said, "The expansion and press addition are in response to the need for high quality printing at greater speeds and the increasing demand for this product. Continued growth in the wholesale club and mass retail channels will require shelf-ready and point-of-purchase display products created from preprinted linerboard."
Fortified with a long record of delivering outstanding performance, quality production, and trusted customer service, Menasha's expansion was in response to research that showed growing demands for preprint linerboard, especially in nondurable markets, including food, pharmaceuticals, and beverage packaging. For these markets, Menasha plans to be North America's leading independent preprint linerboard supplier.
Before selecting a Bobst Group member Fischer & Krecke FP 96S-8 central impression flexographic press, Menasha conducted a diligent consideration of all the flexo printing options.
Roger VerVoort, PrePrint general manager with more than 30 years of experience, says, "We contacted all the major press builders and let them know we were looking for versatility and high speed. We wanted the ability to crank out high quality rolls, day in and day out — enough to give us a leading position in the nondurable and commodity markets. The choice came down to two options.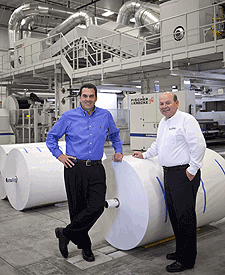 "To ensure versatility, we required rapid changeover ability. A belt-driven press supplier was close to matching the capabilities we sought, but though they were competitive in price and changeover speed, we believed they could not achieve the overall production speed needed to get us to the position where we wanted to be."
Another preprint veteran, production manager Andy Kleist, says, "We essentially discovered there was nothing out there that could match the web width, speed, and efficiencies F&K offered. We visited an F&K installation [Christiansen Print] in Germany that had pretty much the same press we wanted and were very impressed by its performance and the quality of product it produced."
Smooth, Fast Installation
Teaming up with F&K is proving to be exactly the right move for Menasha. For example, as impressive as the potential of the press, the ease and speed of the installation was even more amazing, says Menasha.
In a few months, from the first shovel turned at groundbreaking on June 2, 2008, until the first weeks of January 2009, Menasha PrePrint built the 44,000-sq-ft addition to house the press, purchased and installed the colossal new FP 96S-8, and trained teams to operate it. Six weeks after arrival at the Neenah facility, the press was running product.
Drawing on VerVoort's decades of experience, including installation of nine presses, he said, "This was the smoothest and fastest installation of all. The F&K technicians were well trained, and the riggers they contracted knew their stuff. It could not have gone more smoothly. We were delighted by how quickly the installation went, with our team trained and ready to produce."
Kleist noted that most of the Menasha operators already were handy with a computer and quickly adapted to the completely computer-controlled press. "Our people were ready in two weeks," he said.
"The FP 96S is proving to be a thoroughbred paper eater," VerVoort says. "We already have it running close to its rated capabilities, and changeovers are smooth and fast."
According to Kleist, the press has run up to 1,700 fpm in tests, but the Menasha team needs to continue to explore substrates and sticky backs to get the most out of the press's capabilities. "As speed increases, print changes. When we get all the components in alignment, production will really take off," he said.
Changeovers, too, are easy, and Kleist cited the unique F&K Autoclean option and the ease of sleeve changes as being especially effective.
VerVoort was impressed with F&K service as well. For example, a short while after startup, Menasha encountered a production problem with the press.
VerVoort recalled, "Our guys worked on it for awhile and couldn't quite come up with a fix. We connected the press to F&K through the Ethernet [the "In View" option] and in a couple of hours an e-mail came through: 'good to go.' And it was."
In tribute to Menasha's wisdom, not only in regard to quality production but also when it comes to business and going against the trend, VerVoort reports the press is already "filling up," and if things continue as they are, they may be looking to increase capacity by early next year.
Mulling over Menasha's purchase of the new press during a general economic downturn, Kleist said: "If we've ever done something at the right moment, installing the new press was it."
Will Menasha Packaging consider another F&K press? "You bet we will," Roger VerVoort concluded.
Servo, Sleeves & Lateral Loading
Configured to be the world's fastest preprint flexo press, Menasha Packaging's new Fischer & Krecke press reportedly is one of only three in the world of its size and capabilities. It is approximately 135 ft long, 26 ft high, and can run web widths from 50-98 in. at speeds up to 1,700 fpm. Thanks to the servo drives, preprint applications now can be run with progressively adjustable repeat length in a range between 30-79 in. It is reportedly the only model central impression preprint flexo printing press that offers servo drive and sleeve technology with a lateral loading system.
Menasha's press is engineered to be retrofitted easily with F&K's smartGPS, the new technology for setting registration and impression that increases productivity, reduces waste, and enhances press speeds.
Converter Info
Supplier Info