Published: December 19, 2017
WESTERLY, RI | Maxson Automatic Machinery Company offers an pneumatically actuated tag inserter said to provide a dependable actuation of the tag feedout and tag cutoff. Compressed air passes through an adjustable flow control valve, and actuating an air cylinder, feeds out 6 in. (150 mm) of tag stock.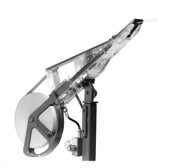 When the solenoid is de-energized, (after a dwell time that allows a few sheets to gather on top of the tag), the cylinder that fed the stock out, retracts, cutting the tag off.
Company says the tag inserters can be easily mounted on rotary sheeters, printing presses, etc., and because of the compact design, the units can be placed in tight quarters in various positions. The narrow snout of the tag inserter permits access in difficult-to-reach applications.
Said to offer outstanding reliability and jam-free operation. Using a counter/multiplier, at a preset count a solenoid is activated that initiates the tag insertion, ensuring an accurate count within the pile.
This email address is being protected from spambots. You need JavaScript enabled to view it.