Published: December 28, 2016
ST. CROIX FALLS, WI | Letterhead Press, New Berlin, WI, a specialist in print finishing and packaging, recently has purchased a new OmniFold 3000 folding and gluing system from Brandtjen & Kluge.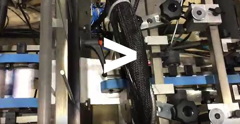 Reportedly, this modular converting system can be configured to fulfill the current requirements of a packaging manufacturer while simultaneously providing the flexibility to easily add modules and give the system more capability to meet future demands. Built to maximize converting capabilities while minimizing set-up time, the OmniFold 3000 is said to include features that bring productivity and reliability to a new level.
"We have depended on Kluge since the day we opened our doors in 1984," says Letterhead Press VP Dick Reindl. "Although we've grown quite dramatically, we've never outgrown Kluge. We rely on a number of their machines every day."
Founded in 1984, Letterhead Press produces a wide array of paper and plastic products reported to enhance product and marketing effectiveness by using an assortment of equipment (including Kluge Platen presses) to foil stamp, emboss, die-cut, apply holograms, fold and glue, specialty coat, fold, stitch, and perfect bind.
"Letterhead Press has an excellent reputation for understanding their customers' needs and bringing high quality solutions and services to those customers," says Kluge CEO Michael Aumann. "We are pleased that Letterhead's evaluation process resulted in them choosing Kluge. Our entire organization is committed to proving they made the right choice."
This email address is being protected from spambots. You need JavaScript enabled to view it.