Published: November 23, 2016
SPRINGFIELD, MA | The recent Fall Meeting recent Fall Meeting and Leadership Conference of the Paperboard Packaging Council (PPC), held October 26–28 in San Antonio, TX, reportedly helped executives in the paperboard packaging industry become more efficient and effective leaders. During the three-day meeting, they learned how to drive vision and culture, discovered how to harness today's most useful mobile technologies, and heard the perspectives of leaders from companies such as Graphic Packaging International and HP Indigo.

In his keynote presentation, Steve Wiley, president and founder of the Lincoln Leadership Institute, used the Battle of Gettysburg as a metaphor for teaching leadership in the modern age. Specifically, he used examples from the battle to demonstrate the difference between "transactional leaders" who merely direct and coordinate, and more effective "transformational leaders" who create a vision of the future, model their values, and build a culture of confidence and commitment.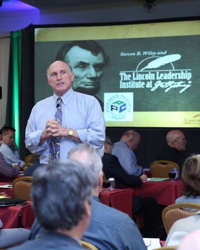 Beth Ziesenis, author, speaker, and professional nerd, posed a solution to the lack of time today's leaders have: Use technology to pack more productivity into each day. She took attendees through "a day in the life of a nerdy packaging professional" where free or low-cost apps help to increase productivity from morning to night. For example, she introduced the x.ai app that provides an artificial intelligence personal assistant that can set up appointments. Evernote is the ultimate note-taking app, she said, allowing users to capture all of their ideas throughout the day and have them available on any platform. Ziesenis also suggested the operator app for quick personal shopping when one doesn't have time to go to the store.
Attendees also heard from two distinguished industry leaders. Michael P. Doss, president and CEO of Graphic Packaging International shared insights into the company's strategic objectives for growth. Alon Bar-Shany, general manager of HP Indigo talked about the evolution of digital printing and the power of change. In many cases, he noted that it is more risky not to change than to remain stable yet static.
Other conference highlights included a forecast and discussion from economist Jeff Rosensweig of Emory University, the announcement of the winners of the 2016 North American Paperboard Packaging Competition, a panel discussion featuring some of the designers of the winning entries, as well as a networking reception at San Antonio's famed Buckhorn Saloon.
"PPC's biannual meetings unite industry leaders from across North America in learning to better their businesses and support the industry as a whole," says PPC president Ben Markens. "Our latest meeting in San Antonio exceeded our expectations, and I hope to see everyone again for our next meeting in the spring!"
PPC's next conference will take place March 29–31, 2017, in Charlotte, NC.
This email address is being protected from spambots. You need JavaScript enabled to view it.