Published: November 04, 2016
GLENVIEW, IL | Lachenmeier, part of SIG and a manufacturer of stretch hood equipment and film, recently showcased its solutions for the corrugated industry at 2016 TAPPI AICC SuperCorrExpo in Orlando FL.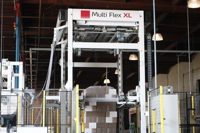 The Multi FleXL stretch hood machine reportedly provides the necessary protection and force to stabilize even the most challenging loads. The machine wraps loads from 500 x 500 mm to 3,200 length x 1,700 width mm, with a maximum height of 3,000 mm. It can be configured with up to four different film sizes and set up to automatically switch between sizes to provide enhanced flexibility and a perfect fit for every load. Wrapping up to 150 loads/hr, depending on the size and height of the product, Multi FleXL further provides fast and accurate results, adds company.
When coupled with Xeros stretch hood film, loads are not only quickly and effectively secured but also free of contaminates and moisture, company says. Stretch hood film inherently offers waterproof protection—ensuring loads are kept dry from the elements. However, condensation can also build from the inside due to high humidity or fluctuations in atmosphere temperature. The patented multilayer film technology used to manufacture Xeros is said to prevent that. The combination of proprietary features effectively manages sunlight and creates an impermeable barrier to liquids. Aside from eliminating condensation and unwanted elements from entering the bag, the technology also maintains barcode readability and prevents tears or punctures as bags are stretched over the load.
"The Lachenmeier systems are ideal for manufacturers looking to effectively secure pallet loads both during transport or when stored in the field," says Neil Weisensel, (https://www.linkedin.com/in/neilweisensel) brand and marketing director, Muller. "Coupled with the fact that the systems save customers 10 percent in film consumption, is 100 percent waterproof, and eliminates the risk of contamination, they address and solve many concerns in today's supply chain."
This email address is being protected from spambots. You need JavaScript enabled to view it.