Published: September 16, 2016
NEENAH, WI | Menasha Corporation reports the completion of its new headquarters in Neenah. Menasha is a provider of corrugated and plastic packaging manufacturer and supply chain solutions specializing in retail merchandising packaging and displays, plastic reusable containers and pallets, protective packaging interiors, and packaging supply chain and fulfillment services.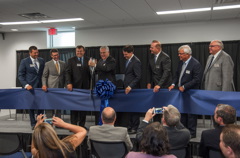 The 102,000-sq-ft facility is Leadership in Energy & Environmental Design (LEED) Certified and replaces the corporation's previous 50-year-old headquarters.
More than 200 employees will work in the new building, which also houses the corporate office of Menasha Corporation's subsidiary, Menasha Packaging Company. Included in the facility is Menasha Packaging Company's Retail Integration Institute, a replica retail store and customer collaboration space. Menasha Corporation, with operations in North America, Europe, and Asia, has been headquartered in Northeast Wisconsin for 167 years.
"We are pleased that our long history in the Fox Valley area of Wisconsin will continue with our new facility and headquarters," says Jim Kotek, president and CEO of Menasha Corporation. "Our new building reflects the innovative, collaborative spirit of our employees, and it's pleasing for all of us to be able to offer a work environment that is more spacious and more conducive to how we interact with and work with our fellow employees, customers, and suppliers."
The new facility was opened formally on September 7 with a ribbon-cutting ceremony.
This email address is being protected from spambots. You need JavaScript enabled to view it.