Published: November 20, 2015
SPRINGFIELD, MA | The Paperboard Packaging Council (PPC) has revealed the winners of its 72nd annual North American Paperboard Packaging Competition at the association's Fall Conference in Indianapolis, IN. With unique structures, state-of-the-art finishing techniques, and ingenious solutions for stacking and shipping, the winners represented both smaller independent companies and large integrated folding carton manufacturers, says PPC.

Entries were submitted into one of three categories: Eco, for those cartons that reduced or eliminated the need for less sustainable substrates and/or saved on energy or materials; Innovation, for entries that featured a unique structural design or used cutting-edge substrates, inks, laminations, coatings, and/or converting processes; and General, for cartons that demonstrate excellence in meeting client objectives, brand enhancement, shelf appeal, shipping and distribution, and beyond.
The Paperboard Package of the Year, the competition's top award, was presented to The Ellis Group, Pickering, ON, Canada, for its Toblerone One by One Gifting family of cartons. A departure from Toblerone's previous designs, the boxes were designed as a gift that does not require rewrapping. The graphics feature a ribbon that flows between the lid and base. The cartons are also right-sized to eliminate the need for false bottoms or void fillers, and they're optimized for efficient pallet configuration.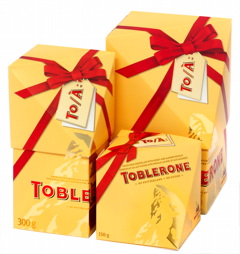 Bert-Co Industries, Ontario, CA, was awarded Folding Carton of the Year for the GlamGlow Flashmud entry, a striking design with a distinctive "X" shape that has the look and of an upscale rigid box. The pack also features soft touch coating, detailed foil stamping, and an inner panel that makes the unboxing experience fun.
This year's Eco Award went to The Ellis Group for the Cadbury Crème Egg cartons. By substituting plastic trays and shrinkwrap sleeves with renewable, recyclable paperboard, this new design is more environmentally friendly than its predecessor and allows more of the eggs' primary packaging to show through. Die-cuts in the bottom and top of the pack allow the cartons to nest, thus optimizing both pallet and shelf configuration.
The Innovation Award was given to All Packaging Co., Aurora, CO, for its O.penVAPE Reserve carton. Featuring a distinctive hexagonal shape and telescoping lid, these cartons were simple to assemble (the top panels pop into shape automatically, leaving only the bottom to be closed and locked) and pack snuggly together like puzzle pieces for easy shipping and storing.
Taylor Box Co., Warren, RI, took the Rigid Box of the Year for the HBO Influencer Kit.
Three Judges' Awards were given out this year. The first went to TPC Printing and Packaging, Chattanooga, TN, for their Chambord Black Raspberry Liqueur carton. The second went to Paperworks Industries, Bala Cynwyd, PA, for the Brasseurs du Nord 6-Pack beer carrier with its unique retractable handle. WestRock, Richmond, VA, took the third Judges' Award for its metallized Mixx Tails Beer carton.
"PPC's Carton Competition is an opportunity for PPC members to showcase all they have accomplished," says PPC president Ben Markens. "Each year I'm blown away by the caliber of the entries. The highest level of excellence clearly runs throughout the folding carton industry."
This email address is being protected from spambots. You need JavaScript enabled to view it.