Published: May 29, 2015
SPRINGFIELD, MA | On April 10, 2015, the Paperboard Packaging Council (PPC) closed its 2015 Spring Outlook and Strategies Conference with a tour of International PaperBox, located just minutes from the conference location in Salt Lake City, UT.

During the general sessions on April 9, International Paperbox's CEO Wade Holbrook outlined the history of the company, including Wade and Kay Holbrook's acquisition of the firm in 2004 and their transition to a larger facility in 2007. The next day, attendees were able to experience elements of Holbrook's presentation first-hand during a tour of their plant.
"I'm grateful that International PaperBox opened their facility to us," says PPC president Ben Markens. "Whenever we can, we try to provide plant tours as a way to help benchmark against industry best practices."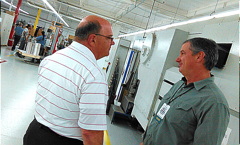 Participants were able to view International Paperbox's equipment layout and gain insight into the Holbrook's management philosophy, from printing to die-cutting, folding, gluing, and beyond.
"It was an honor to show my colleagues in the folding carton business around our shop," says Holbrook. "The true power of association is in coming together to share best practices, and I was glad to provide just such a platform."
This email address is being protected from spambots. You need JavaScript enabled to view it.