Published: January 08, 2015
DOMSJÖ, SWEDEN | The board of the Holmen Group, which includes Iggesund Paperboard, has agreed to investments totaling €60 million in Iggesund's mills at Iggesund, Sweden, and Workington, England.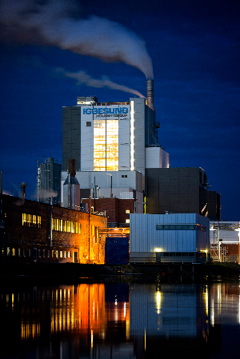 At Iggesund the investments will eliminate bottlenecks in pulp production so it can be increased from the current 370,000 tonnes to 420,000 tonnes. The target for the board mill is to increase the capacity by 10% without investments.
"After we brought the new recovery boiler on line and developed our purification systems for both air and water, the mill now has unused potential, in both the pulp and board mill, which we can activate," says Olov Winblad von Walter, director of the Iggesund mill. "This is exciting because we are taking yet another step towards being one of the world's leaders in mill technology with the lowest environmental impact. This move also further reinforces our competitiveness in the form of lower variable costs."
The investment in Workington will increase the mill's paperboard production capacity from the current 200,000 tonnes to 220,000 tonnes. Company says this investment will also make the mill a leader in folding box board technology, thanks to a rebuild of the paperboard machine's press section which will increase product quality. The rebuild will be completed by June 2016.
"We are experiencing strong demand for our improved Incada, not least because European converters regard it as the paperboard with the best runnability for applications involving mass-market consumer products," says Ulf Löfgren, managing director of Iggesund's mill at Workington. "In that situation of course it is positive that we can increase our capacity so more people can benefit from Incada's advantages."
"We see no difficulty in increasing Incada's presence in Europe," says Arvid Sundblad, VP of sales and marketing at Iggesund. "Our market share has been limited by our capacity. The planned capacity increase combined with Incada's recognized quality and our service gives us a excellent position."
Iggesund Paperboard reports that over a five-year period, it has invested strongly in strengthening its competitiveness via lower energy costs, while simultaneously minimizing its use of fossil fuels. A total of €361 million has been used for this purpose in both Workington and Iggesund. The investments announced now are more focused on increasing production.
This email address is being protected from spambots. You need JavaScript enabled to view it.