Published: December 18, 2014
ROCHESTER, NY | Diamond Packaging won 10 awards in the 71st annual North American Paperboard Packaging Competition, which were presented at the PPC Fall Meeting and Leadership Conference in Atlanta, GA. The competition, sponsored by the Paperboard Packaging Council and judged by a jury of packaging professionals, industry experts, and professors, is a celebration of the industry and its creative potential. It is also an affirmation of paperboard as the clear and intelligent choice for packaging in today's eco-conscious world.
Diamond received recognition by winning four Gold Awards and six Excellence Awards. The total represents the highest number of awards Diamond has ever won in this competition.
Diamond won a Gold Award and an Eco Gold Award in the "Cosmetics" category for Elizabeth Arden's John Varvatos Artisan Acqua carton. The packaging features tightly registered offset printing with intricate embossing accents, creating a singular presentation that resurrects the lost art of craftsmanship, with a modern edge.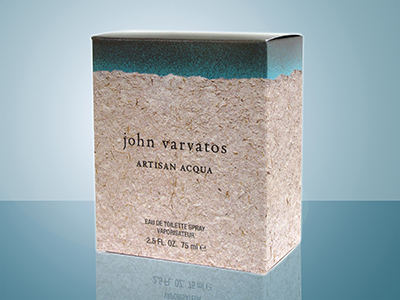 The carton was converted utilizing Clearwater Candesce SBS paperboard and offset printed with four color process, metallic copper, teal, and brown inks, inline with Liquid Metal silver specialty UV coating, UV matte, and UV gloss spot coating. All paperboard components were manufactured using 100% wind energy.
Liquid Metal was applied on the top, front, rear, and side panels as an alternative to foil stamping. UV matte coating was applied over the embossed 'sand' pattern, contributing to the natural aesthetic of the Artisan Acqua carton. The UV gloss spot coating on the top panel and over the bottle on the rear panel provides a striking contrast to the overall matte finish surrounding it. The multi-level embossed 'sand' pattern is inspired by Mediterranean beaches and perfectly complements the flask-like fragrance bottle, housed in handwoven rattan.