Published: May 16, 2014
MARLTON, NJ | Technical Help in Engineering and Marketing (T.H.E.M.), a provider of flexible packaging solutions in North America, recently announced the availability of a new high-speed cartoner for the manufacturing of Zipbox, an innovative resealable hybrid package.
Zipbox was developed by T.H.E.M. in conjunction with its global technology and commercialization partner, the Zip-Pak Div. of Illinois Tool Works Inc. (ITW). It provides a high-impact, efficient means of marketing a wide range of consumer products. Zipbox combines the stability of a carton with the convenience of a resealable flexible package, eliminating the need for a separate inner liner. The folding carton and resealable "press-to-close" header are heat-sealed together to create a robust package that requires no inner bag.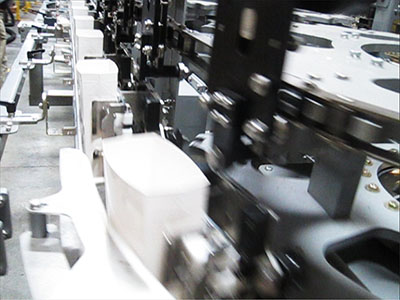 Automated filling system allows testing and scale-up
As a result of advancements in equipment technology developed by Hartness International Inc., a Greenville, SC, company that is also owned by ITW, the process for test marketing products utilizing the Zipbox packaging has now been streamlined and simplified.
"We realize that bringing a brand new package format to market can be challenging for brand managers," says Neil Kozarsky, CEO and president of T.H.E.M. "That's why, in collaboration with ITW, we've worked to bring commercial production well within reach."
With the new Hartness system, formed cartons with the flexible header incorporating the zipper are transferred into "pockets." In this operation, the inverted cartons are filled at rates of 100+ per minute, and then ultrasonically sealed. Working in conjunction with brand owners, carton and film specifications are designed to meet the barrier needs of the product.
"Zipbox combines the most desirable attributes of both rigid and flexible packaging into a single innovative container that offers both consumer appeal and efficient handling," continues Kozarsky. "Because it reseals easily and maintains product freshness after opening, Zipbox is well suited for a very broad range of products that are otherwise subject to spilling or spoilage."
Greater efficiency from shipment to display
Linerless Zipbox packages offer significant advantages to both consumer product manufacturers and retailers. "Zipbox gives brand owners the ability to reduce the size of current bag-in-box packages by 10 percent to 40 percent," says Kozarsky. "This efficiency enables more products to be shipped per truck, reducing overall shipping costs."
Unlike round canisters and many pouches with non-rectangular "footprints," retailers can frequently stock more Zipbox packages on grocery shelves, thereby reducing restocking rates and associated labor. When merchandised on a shelf, rectangular Zipbox packages also offer eye-catching graphic billboards that help attract consumers.
Greater consumer appeal
"Generally, new packages appeal strongly to some groups but not so strongly to others," adds Kozarsky. "Zipbox, however, is highly intuitive and tested equally well across all demographics in both focus groups and quantitative research. A Harris Interactive poll, for example, indicated that 85% to 90% of potential customers understood the benefits of the Zipbox package right away, and 64% of respondents used the term "easy" in describing opening, closing, or using the package. In addition, they found that the package concept tested equally favorably among males and females, both younger and older."
In actual use tests, consumers liked being able to access the zipper simply by lifting the flaps of the package and not having to struggle with opening an adhesive-sealed liner. Other consumer advantages include reclosability, barrier protection, fragile product friendliness, stackability, and overall stability.
Sugar is first commercial application
The first commercial product to be packaged in the new carton was Plantation brand sugar from U.S. Sugar Co. In a category known more for its commoditization than innovation, Zipbox represents a breath of fresh air, bringing forth the best qualities of cartons and resealable pouches, while remaining competitively priced with other brands marketed in more traditional sugar packaging.