Published: November 02, 2012
BUFFALO GROVE, IL | Hexacomb, a manufacturer of paper-based packaging and graphic display boards, reports plans to open a new manufacturing facility in central Mexico. The company will be locating its new plant in the state of Querétaro and expects it to be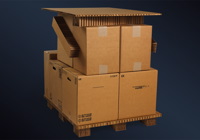 operational in the third quarter of 2013. The facility will manufacture Hexacomb's full line of paper-based honeycomb protective packaging products, including sheets, runners, edge, and corner protectors.
The company is currently looking for a facility that will be able to house core and panel making equipment, eventually producing 90 million sq ft of product annually. It expects to finish the site selection process by the fourth quarter of this year.
"Today, we supply many customers in central Mexico from our Monterrey facility, which is located in the northeastern part of the country," says Hexacomb president Scott Daniel. "Over the next year, we expect to grow our business in the central region even further, which is driving the need for additional manufacturing capacity in the Querétaro area."
The additional Hexacomb honeycomb production output will address growing demand from multiple market segments including automotive, glass, spinning mills, appliances, and food/beverage. The company plans on starting the new operation with approximately 20 employees and will likely scale up to between 40 and 50 people when the plant is at full capacity.
This email address is being protected from spambots. You need JavaScript enabled to view it.