Published: January 30, 2012
Converter Graphica Bezalel Ltd., in Yavne, Israel, is the beta site for the first Highcon Euclid digital cutting and creasing machine. Installation at the 66-year-old family-run company will take place in February.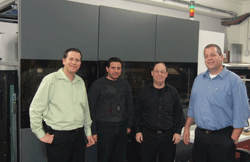 The Euclid is an entirely digital cutting and creasing production machine for folded cartons. With jobs accepted from standard prepress software, the Euclid uses Highcon's Digital Adhesive Rule Technology (DART) to create the crease lines within minutes, with no need for traditional dies.
The Euclid is equipped with multiple lasers, along with new and innovative precision optics to cut cardboard sheets, delivering high quality, on-demand, cut and creased sheets with a format size up to 76 cm by 106 cm (30 in. by 42 in.). Turnaround times are said to be cut dramatically, while run lengths up to 10,000 sheets become attractive and profitable for the converter.
Testing Under Production Conditions
Graphica Bezalel provides packaging solutions for many well-known international brands. The company sees its key strength in its versatility and ability to print and convert a wide variety of substrates. The Euclid will integrate smoothly with Graphica's existing pre-media software and workflow and is compatible with its existing high quality offset printing.
According to Eyal Harpak, deputy general manager, "We have been following the progress of the Highcon Euclid for a while now and are delighted to have the opportunity to put it through its paces. We look forward to exploring the features and potential of the Euclid and testing it under production conditions. We are excited by its potential to transform our customer responsiveness and increase our profitability through increased flexibility, productivity, and cost savings."
From the brand-owner perspective, Mike Ferrari of Ferrari Innovation Solutions LLC, who had a 32-year career at the Procter & Gamble Co. and is now a packaging industry consultant has this to say: "Having seen the Highcon Euclid in action myself, it is clear it will also change the consumer experience, enabling marketers and designers the freedom to change cartons, shapes, and windows. It will be fascinating to see what the machine is capable of during its beta testing."
Highcon will launch the Euclid at the drupa exhibition in May.