Published: February 21, 2014, By Yolanda Simonsis
On February 6, I was invited as a guest of Messe Düsseldorf North America, Chicago, IL, to attend the German-American Chambers of Commerce Economic Forum 2014 at the Hilton Hotel Rosemont (Chicago O'Hare), IL. As Germany is perhaps one of the strongest economies in the world, I thought it likely was worth my while to hear what they had to say. I later learned from roundtable moderator W. David Braun (partner at Quarles & Brady LLP and chairman of AHK USA & GACC Midwest), that German companies "support roughly 581,000 jobs in the US." That number is nothing to scoff at.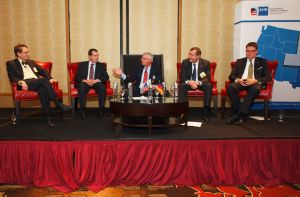 There were four speakers featured at the luncheon in roundtable fashion. Since the event was planned to fit within a schedule, the questions posed by moderator Braun obviously had been made available to the participants prior to the meeting, although several questions were submitted from the audience in writing during the event. Other roundtable participants included Adolfo Laurenti (deputy chief economist for Mesirow Financial), who gave introductory remarks regarding the outlook for the US economy; Geoffrey Somary (CEO of Ipsen USA based in Cherry Valley, IL, and COO of Ipsen Group); Peter Riehle (president and CEO of Wittenstein, Inc. based in Igersheim, Germany, and North American headquarters in Bartlett, IL); and Dr. Thomas Zielke (president and CEO of Representative of German Industry and Trade–RGIT).
Questions posed by moderator Braun spanned a variety of economy-related topics, several of which some people might consider controversial. Here are some highlights.
Laurenti's Economic Outlook: The outlook for 2014 is slightly better than in past recent years. This year will be one of transition. There are several factors for optimism. In the housing market, there is pent up demand in the US for capital spending. The labor market is steadily improving. In 2014 there will be new jobs with income potential which will impact the economy positively. Housing market growth is now probably sustainable for the long term for sales and prices. There is a return of confidence in spending. Capital investment in machinery, software, and structures is returning. In terms of the fiscal trend, in the past , government spending was mostly negative and was a drag on the economy, but he expects the government to now have a neutral impact on the economy allowing growth of around 3+%. This will be good for consumer and business confidence and spending. Complications may involve interest rates and a lack of performance in the labor market with possible structural reasons for this. Here is Laurenti's anticipated global performance:
2014 Global Outlook Scorecard
| | |
| --- | --- |
| Country | Gross Domestic Product (GDP) |
| United States | 3.0 |
| Eurozone | 1.2 |
| Germany | 1.7 |
| France | 0.8 |
| United Kingdom | 2.4 |
| Japan | 1.2 |
| China | 7.1 |
| Brazil | 2.1 |
| India | 4.9 |
Roundtable: Economic Drivers & Growth
The roundtable discussion followed with guests Somary and Riehle describing their individual business models. Ipsen, although originally founded 65 years ago in the US, is now German owned combined with private equity and management. Wittenstein is a privately held, family-owned German-based corporation founded in 1949. Neither company is connected to the converting industry but both are global corporations with engineering, consulting, and R&D challenges requiring tailored solutions for efficiencies.
Somary explained the number one driver for developing manufacturing is speed to market of new product. That speed to market equals pricing power, and that pricing power is the decider of all. To be quick in innovation, he said, you must have excellent manufacturing and engineering. Ipsen serves American and European markets; once products are more mature, the company goes to Asia to achieve more cost savings and cost improvements.
Riehle noted that Wittenstein has invested heavily in machine tools and people, not in capacity necessarily but in technology that requires skilled labor to run sophisticated machinery.
Somary shared that Ipsen will expand in Europe with a 5% headcount; 8% increase in headcount in US with flat growth in Asia. He expects no new building construction but there will be an increase of activity.
Product-Market Differentiation
Moderator Braun observed that both companies export all over the world, but he wanted to know if the product they sell in Asia is an identical product in America and Europe. He wanted to know if they must adapt products to different markets.
Both Somary and Riehle felt there were two sides: regulatory and the customers' demands. It's most difficult to offer a product with the "feel" a customer wants. Transporting "feel" isn't part of regulations. Riehle suggested that customer service and training are important for different markets.
Workforce Challenges
On the subject of challenges posed by a skilled work force in both the US and Germany—each with their own systems and issues—Braun asked what parts of the system would they want to adapt to help address a better and more skilled, upgraded work force?
Somary admitted there are different challenges. Europe already has a tremendously strong training system. His challenge there, particularly in Germany, is that he can't find the people to fill jobs as there's near full employment for engineers, and it's very competitive from city to city. It's not training that's a problem. In the US it's very different. Here, training isn't as robust as the European system. Ipsen is addressing the problem by investing several hundred thousand dollars each year by finding people who are in universities and bringing them into Ipsen's own training academies. The company achieves 90% retention for about 20 people who enter the program.
Riehle has two approaches: In Europe they must challenge their workforce to maintain retention; in US Wittenstein must create its own skilled workforce. They promote from within, involve high schools, and recruit from technical colleges and universities.
[For an excellent TIME magazine article on STEM academies (science, technical, engineering, and math) in the US and the future of education that is in practice now (in my own home town of Chicago, IL), see the article, "The School that Will Get You a Job" by Rana Foroohar.]
Economy versus Corporate Growth
Moderator Braun asked how the panelists saw sales growing over the next year or two. Would the companies' sales growth be greater than the economy's growth (US GDP is anticipated to be 3.0%; Germany is expected to be 1.7%)?
Somary expects an increase in the company's top line growth by 10% over last year, driven by fundamental market changes. Even with 5–7% market growth, it will mean double growth for Ipsen. Asia will be a flat year from last to this year.
Adopho Laurenti commented that even though it appears the economy isn't keeping up with successful companies, for every sad story there is a successful story and that productivity is the driver to success.
In terms of the BRIC countries, Somary observed hope is alive that India will grow; however, it has a complex political system. Fundamentally Ipsen will invest there, but they are cautious. Brazil, however, is less optimistic—it's a promising dream that doesn't seem to materialize with too many logistical problems.
T-TIP & TPP
On a controversial note, Braun asked the participants about a more political and diplomatic issue, i.e., the Transatlantic Trade and Investment Partnership (T-TIP) which has just gotten off the ground with negotiations. Dr. Thomas Zielke says he has been following the T-TIP closely on behalf of German industry. Zielke says it is intended to be an investment partnership between two of the greatest trade partners on earth: the US and Europe. He feels mutually accepted standards must be created for future generations to bring down the cost of business within some kind of time frame before 2016/2018. He explained that if we achieve Trans-Pacific Partnership (TPP), it would enhance the chances for T-TIP. By reducing trade barriers, says Zielke, "it would have a beneficial economic impact." He felt the need for "a push from the business community. It will be very helpful to have more positive examples."
Mesirow's Laurenti explained that "trade is good for all parties involved and we should push with no hesitation."
With regard to currency exchange rates, Laurenti felt the Euro dollar should be weaker this year, "but not that much. The current exchange rate is very accommodating to the German economy."
What are your perceptions about your company's economic outlook for 2014? And what about your opinion on the TPP and T-TIP? Beneficial, benign, or detrimental?
To round out your own global perspective on related subject matter, be sure to check out today's post on the PFFC-online.com website concerning Acimga's report on Italy's graphic and paper industry by clicking HERE.
My friends call me
Yo