Published: May 08, 2018
Knowing what can cause problems with pouches and bags can prevent converters from choosing the wrong equipment for their process.
Pouch manufacturing is a complex process. And with today's high-quality standards, converters must excel so the final product passes the required quality controls. Of course, no process is without its share of problems. Without a reliable pouch machine that offers good support, there are a host of problems that can happen.
Converters find themselves troubleshooting such items as insufficient sealing strength, zipper strength, crumpled bags, unique bag shapes and other operational concerns. According to Jesse Rosenow, sales engineer at Totani America, it is important for converters to understand what causes these issues.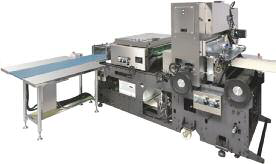 For instance, heat sealing technology relies on temperature, pressure and sealing time to produce a proper seal. "Weak seals are usually caused by the lack of the proper amount of one of these factors," Rosenow says. During the setup of the machine, the seals should be tested, and the machine settings can be adjusted in the case that a weak seal is found. "On all Totani machines, we offer what is known as 'wait time.' This feature is used during setup to add a pause to the machine cycle. This does not affect the temperature, pressure or sealing time so seals can be set and tested while running at slow cycle rates. This function saves time, decreases material waste and improves efficiency." Once the seals are properly set, the wait time is removed, and high-speed quality production begins.
The strength of a zipper seal relies on the same factors as the side seal, however, most issues with seal strength here are related to the seal bars not being properly lined up with the zipper profile itself, Rosenow explains. "With proper training the machine operator should have no problem with this. Additionally, a strong partnership needs to be formed between the converting machine OEM and the zipper manufacturer. This is to ensure that the proper seal tooling is prepared for the necessary production of the zippered pouch," he says.
If crumpled bags are the problem, Rosenow says that proper tension control, tracking and of course properly trained operators are key to producing good quality products with high productivity and efficiency. Today's converters are consistently coming up with unique pouch shapes to further enhance their customers shelf presence, so they need to use a machine that can handle simple or complex shapes. "Both can be produced using Totani's Thomson full-shape die-cut unit, which can shape-cut the film around the finished pouch in a single stroke regardless of the complexity of the shape. It also can be equipped with a matrix scrap winder and can operate at 200 cycles per minute."

When it comes to operational concerns, most that occur are caused using a wide variety of packaging materials, Rosenow says. "With many of our customers running films with a range of 2-6 mil of varying material widths and with a wide variety of structures it can become difficult for the machine operators to switch from one film to another.
These films can all track through the machine differently, require varying sealing parameters and necessitate the addition of film stabilization units, to name a few. This is why Totani machines are highly customizable and provide all of the necessary adjustment features/parameters to handle the broad range of materials that our customers look to run."
Sharon Spielman is editor of Converting Solutions magazine, a PFFC brand. She can be reached at This email address is being protected from spambots. You need JavaScript enabled to view it.. Mike Greely is senior VP and sales manager at Totani America. He can be reached at This email address is being protected from spambots. You need JavaScript enabled to view it..