Published: May 07, 2018, By Shifa Iqbal, Global Market Insights Inc.
Demand will be fueled by easy handling and low shelf-space requirements.

Shifting consumer preference for convenient packing solutions due to demographics and lifestyle dynamics are key trending factors driving liquid packaging demand. High flexibility, low weight, and easy to carry will remain key properties enhancing product penetration.
Increase in consumer spending on energy drinks and prevalent health awareness trends will drive growth. Global energy drink spending was more than US $40 billion in 2016.
A Variety of Styles
Pillow products accounted for more than 34% of the liquid pouch packaging market share in 2016. Competitive pricing along with strong consumption of dairy products including milk, curd, yogurt, and creams will drive this segment. Global dairy industry will generate revenue more than US $450 billion by 2024, with China being the major consumer.
Stand-up liquid pouch packaging market generated more than US $1.5 billion in revenue for 2016. Capability to stand upright and offer attractive aesthetic appearance for the retail shelf are key properties. Increase in product adoption among retailers due to easy handling and low shelf-space requirements will fuel demand.
Spout pouches are the fastest growing product owing to beneficial factors including transportation ease, handling, and ready to pour. Demand for infant spout pouches could witness more than 7% gains through to 2024. Global baby food spending was more than US $50 billion in 2016. Day care centers or nurseries also have witnessed strong consumption for spout products owing to serving with ease facility.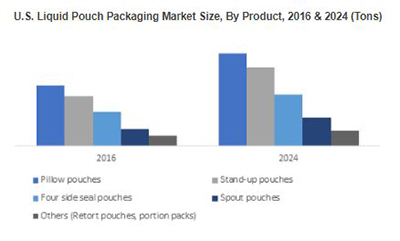 Materials & Markets
Polyethylene is the widely used packing material and generated more US $2 billion in revenue for 2016. Key properties offered by the material include high insulation, durability, and flexibility, along with stain and moisture resistance. Upward polymer price trend along with environmental regulations pertaining to material residues will impact the industry growth.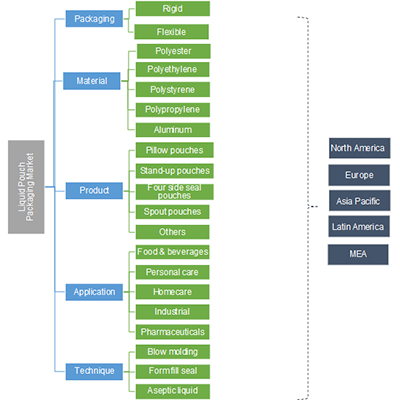 Flexible liquid pouch packaging generated more than US $5 billion revenue in 2016. Shifting preference for easy to carry products has enhanced the product demand. Moreover, the product enables ease in labeling and printing of colorful designs.
Food and beverages accounted for more than 50% of the overall industry share in 2016. Increasing consumer consciousness toward hygiene, along with increased spending on ready to eat food and beverages, will fuel the liquid pouch packaging market growth.
The industry has witnessed increased demand from lubricants and paint and coatings. Safe and easy transportability has positively influenced product demand in this segment.
Aseptic liquid packaging technique sales were worth more US $3 billion in 2016. Rising demand for sterile and hygienic product packing will drive the demand. Form/fill/seal technology will witness more than 5.5% CAGR up to 2024. High production efficiency and fast filling, along with food safety, have enhanced the industry growth.
Asia Pacific liquid pouch packaging market share accounted for more than 35% in 2016. Changing income and demographic trends are leading to increased consumer spending on packaged food products will propel the industry growth.
Europe will witness more over 5.6% CAGR up to 2024. Necessity for small packages and convenient packing solutions due to changing lifestyles are the factors fueling the product scope. Increasing food safety awareness among consumers, along with regulatory compliance, will drive the regional demand.
Global industry share is fragmented due to the presence of regional manufacturers. Tetra Pak Intl., DOW Chemical Co., Weyerhaeuser Co., Smurfit Kappa, Mondi PLC, IMPAK Corp., Bemis, Bischof + Klein Intl., and Ampac are the major industry players.
For more information, visit https://www.gminsights.com/industry-analysis/liquid-pouch-packaging-market
ABOUT THE AUTHOR
Shifa Iqbal is a research analyst-chemicals and materials, at Global Market Insights, Selbyville, DE, which offers market research reports to enable clients to access accurate and granular data along with penetrative business insights. Iqbal has more than three years of experience in the chemicals and materials domain. Contact her at This email address is being protected from spambots. You need JavaScript enabled to view it..