Published: April 26, 2018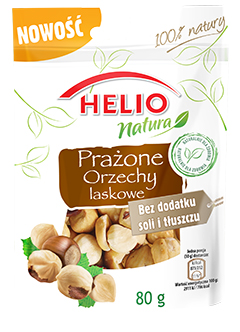 ZORY, POLAND | Helio S.A.'s Helio Natura Roasted Hazelnuts were chosen as the Polish "Best Product - Consumers' Choice 2018" award in the category of Dried Fruits and Nuts. The company's range of products in the category was created in response to the growing demand for natural, less processed foods.
Roasted Hazelnuts is a product unique in its category; it does not contain any additives: fat, preservatives, or dyes, only roasted nuts. The very intense roasting aroma is retained in the package by the use of the EL-ZIP Press-to-Close Zipper.
"As it turns out, even in small packages, there is a need for a zipper closure," comments Izabela Celejewska, marketing manager at Elplast Europe, the producer of EL-ZIP Press-to-Close Zipper. "Helio roasted nuts is a very high quality product, which should be packaged to fully satisfy the consumer."
The shoppers won't choose between nutritional value and taste: they want both. "The function of packaging, or rather the closure, is to protect the product against any loss of quality," says Celejewska. "Especially when we have a premium product, there can be no lack of proper protection. Once again, we congratulate Helio and thank them for choosing our EL-ZIP Press-to-Close Zippers."
EL-ZIP brand zippers are available in over 250 different styles from 3–50 mm wide with sealing capability to PE, CPP, and OPP sealing layers and suitable for use in the most commonly used packaging machines and processes in the industry today.