Published: November 22, 2017
FALLS CHURCH, VA | The Foodservice Packaging Institute recently held its annual competition, in which judges presented PDQ and Pan Pacific Manufacturing as dual winners for the Package of the Year.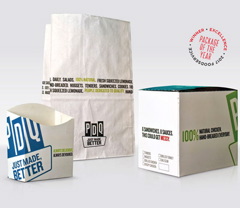 "This year's entries made it so difficult to choose the 'best of the best' that, for the first time ever, the judges selected two Package of the Year award winners," says Lynn Dyer, president of FPI. "PDQ and Pan Pacific Manufacturing demonstrated notable excellence and innovations in packaging, respectively."
Pan Pacific Manufacturing's Seal 2 Go tamper-evident carryout bags won Foodservice Package of the Year for Innovation. The easily sealable bags reportedly take advantage of a growing need in a simple format, allowing restaurants to add safety to the delivery process without additional labor. Judges felt the design could have far-reaching usage throughout the industry, particularly as more and more restaurants depend on third-party services for food delivery.
PDQ's packaging suite won Foodservice Package of the Year for Excellence. Using packaging designed and manufactured by CMI Pack, graphics with big, bold styles highlighted PDQ's color palette, messaging, and graphics to tell its brand story. Judges found that the different pieces created a cohesive packaging message while using every available print surface—even the inside flaps—for witty content that promotes social media engagement
"Many of this year's packaging entries really spoke to the current trends in our industry," says Dyer. "Award entries especially demonstrated how the industry is responding to increasing customer demand for more delivery and take-out services, which impact how foodservice packaging is designed."
This email address is being protected from spambots. You need JavaScript enabled to view it.