Published: November 03, 2017
NEW YORK, NY | Barton Group Inc. (BGI), a consultant to the packaging industry, has announced the development of Delpenta Stand-Up Pouch, described as a low-cost, stand-up flexible pouch with no gusset, making it more space-efficient.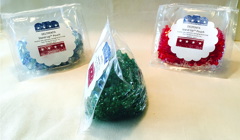 "The pouch provides a better option over the current standard gusseted bottom stand-up pouch because It has no gusset bottom," says company president Lew Barton. "[It] costs less than standard gusset pouches because the flat bottom creates a greater volumetric capacity in the same size pouch, meaning less material can be used for the same fill."
The Delpenta Stand-Up Pouch is a patented technology available for licensing by manufacturers.
Because there is no die-cutting, manufacturing production of the pouch reportedly can be accomplished on common, relatively low-cost horizontal thermo-form/fill/seal machines.
"The productivity of horizontal thermo-form/fill/ seal machines can generate high volume throughput that can exceed the standard gusset pouch volume, saving even more money in the manufacturing and packaging process," Barton says.
The pouch can be used for dry, free-flowing products such as beans, nuts, granola, candies (hard candies, chocolate chips, chocolate sprinkles, jelly beans, etc.), soup and gravy and sauce mixes, rice, soap crystals (bubble bath, etc.), kitty litter, marbles, toys, and more. It can also be produced with easy-open and dispensing features such as tear notches, zippers, or embedded pour spouts.
This email address is being protected from spambots. You need JavaScript enabled to view it.