Published: October 12, 2016
NOIDA, INDIA | Uflex announces the launch of the ESL Aseptic Flexi-Pouch Machine for packaging milk, said to extend the shelf life of the product to 90 days. Company says that milk brands sold in pouches across India have for long been concerned about restricted shelf life, time elapsed during the supply and distribution, optimum pasteurization, the necessity of cold chain to be integrated within the overall supply chain, etc. The new product reportedly eliminates all these problems.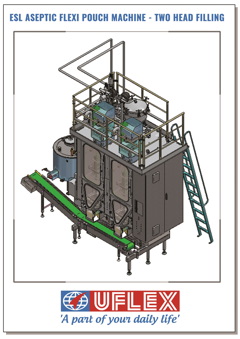 This machine packs milk in a pouch that is formed of a five-to-seven-layer extruded/blown polyethylene film with strong barrier properties including a black layer for UV protection. As a fully integrated packaging solution provider, company also offers the extruded/blown film as well. Pouch machine has an built-in automatic CIP and SIP system and can pack milk in SKUs ranging from 70–1,500 ml volumetrically. The filling speed for these variants ranges between 5,000 and 2,500 packs/head/hr.
The machine has been manufactured with a special Isolation Valve (Sterile Interlock) that does not allow the milk to flow from the UHT to the filling machine in case sterilization of milk in UHT is incomplete or does not conform to the set specifications. This spares unnecessary invocation of intermediate CIP and SIP of the filling machine, avoiding wastage of time. Gravity Filling System with Precise Tank Level Regulation is provided in this machine. The machine can be customized with single-, two- or three-head filling arrangement as per the requirement of the client. Machine is also capable of simultaneously packaging differential volumes on various heads. The pouch machine is fitted with Impulse Sealing system imported from US said to ensure a perfect leak proof seal.
Says Ajay Tandon, president and CEO, Engineering Business, Uflex, "It was a challenge to design and manufacture a machine for extending shelf life of a product as perishable as milk. After meticulous R&D of about 18 months, the Engineering Business at Uflex has designed and brought out this machine, which has been put under commercial run and validation at one of the largest milk packers in India.…The end-to-end system comprising extruded/blown multi-layered specialty film and the ESL Aseptic Flexi-Pouch Machine offers an optimized packaging solution for milk in flexible pouches. This machine can also be customized for packaging other beverages too."
Ashok Chaturvedi, Uflex chairman and managing director says, "…Roughly 145 to 150 million tons of milk is produced by India every year, out of which several million tons get spoiled owing to inefficient packaging. In such a scenario, an overall system to extend the shelf life of milk without disturbing the retail coordinates and further to be able to ensure availability even in the remotest of the areas without having to spend towards cold chain is a real shot in the arm for milk brands and retailers. This will go a long way in reducing spoilage and wastage of milk…."
This email address is being protected from spambots. You need JavaScript enabled to view it.