Published: December 10, 2013
VIENNA, AUSTRIA | Austrian Starlinger & Co. GmbH has developed an Easy Open feature for the patented PP*STAR pinch bottom bags. Now it is possible to use this consumer-friendly opening feature on packaging made of BOPP laminated polypropylene tape fabric, a very lightweight but strong packaging material.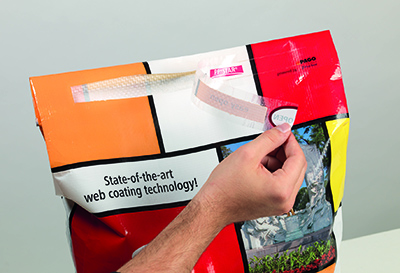 Due to its simple and practical concept, this convenient opening feature is used in many different packaging applications: for food, animal feedstuff and pet care products, dry powders, and bulk goods, in the industrial and end-consumer sectors, etc. For common easy open bags that hold larger quantities of content and thus weigh a lot, however, the packaging material has to be very thick and heavy to avoid breakage and provide adequate protection. Higher bag weight means more raw material input at the beginning of the bag's life cycle and more waste at the end.
The great advantage of PP*STAR poly-woven bags is that they have a low bag weight but are very strong. Due to their special material combination, they can hold large quantities of heavy content without tearing or breaking even when dropped. After a detailed market analysis and feedback from end-users, Starlinger developed the Easy Open feature to make PP*STAR pinch bottom bags even more consumer-friendly.
Because of the exceptional strength of the woven polypropylene-BOPP composite, a tool such as scissors or a knife is needed to open a normal PP*STAR bag. In this regard, Easy Open proved to be the most convenient and cost-saving opening solution: The Easy Open strip can be produced inline, avoiding extra production steps and consequently production costs. Thus it integrates perfectly into the PP*STAR concept. Alternative reseal features are not only more expensive, they also require additional production steps and reduce the bag production speed significantly.
The packaging solution for the pet food market
The core market for PP*STAR Easy Open bags is the pet food industry. Studies have shown that in this sector 75%–80% of the bulk packaged products (packaging with more than 7.5 kg content) are emptied all at once into a container after opening. Thus, a one-time easy opening system is the perfect solution for this market. Just tear away the Easy Open strip and turn the bag – with Easy Open, unpacking and emptying becomes a lot easier for the consumer.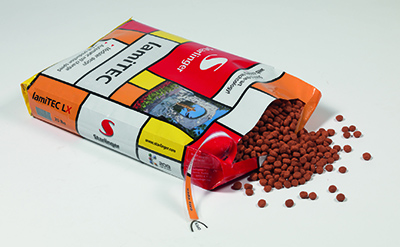 Efficient packaging for high-quality bulk goods
The PP*STAR concept combines efficient packaging material with an efficient production process. Destined for the end-consumer sector, the bags are made of woven polyethylene tape fabric laminated with reverse-printed BOPP film. This makes them lightweight, strong, break-proof and visually appealing. Offering reliable content protection and attractive shelf display, they are the perfect packaging for a wide range of dry bulk goods sold in retail.
PP*STAR bags are produced on the Starlinger pp*starKON conversion line, the world's first fully automated conversion line for poly-woven pinch bottom bags. Flexibility, high productivity, and material-saving production make it a highly efficient conversion line with a yearly production capacity of 31 million bags.
This email address is being protected from spambots. You need JavaScript enabled to view it.