Published: September 08, 2016
NOIDA, INDIA | Uflex Ltd. reports the availability of "Big Bags" for heavy-duty packages used for bulk-packing items such as building materials, flour, rice, and pet food, among others.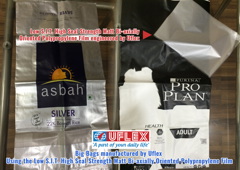 According to the company, a major challenge confronting the big bag industry was the difficulty in manufacturing high coefficient of friction (COF) anti-skid bags in a matte option due to the inherent properties of ordinary oriented polypropylene (OPP) film. Uflex says a high COF is imperative for stacking big bags onto pallets since bags made from ordinary matt finish OPP film skid during palletization.
Big Bags by the Converting/Packaging Business of Uflex are made by combining high COF, low SIT, high-seal-strength matt biaxially oriented polypropylene (BOPP) film and high-performance woven polypropylene (WPP) fabric. This combination reportedly imparts high strength to the bags, making them fit for heavy-duty applications. The big bags made of this special film have qualified the critical drop tests as laid down by the ASTM standards.
Company says benefits include high haze >75%; low seal initiation temperature (SIT); low gloss on matt side; excellent matt dispersion; good contact transparency; and excellent homogeneity. The film is also said to exhibit high hot-tack strength and imparts paper-like matt look to the bag to enhance esthetics. This special film also allows good stacking and sealing for pinch bottom, adds company.
Ashok Chaturvedi, chairman and managing director of Uflex, says, "…I am happy for the contemporary solution-oriented approach of my R&D teams across business verticals and congratulate them on this success.…This innovation is yet another testimony of the synergetic interplay of our business verticals coming up with a profoundly innovative packaging solution."
This email address is being protected from spambots. You need JavaScript enabled to view it.