Published: June 20, 2016
MIDLAND, MI | The Dow Chemical Company is introducing a new member of the recently launched RecycleReady Technology, said to enable the recyclability of polyethylene-based barrier packaging as part of existing grocery store drop-off recycling programs.
Created through collaboration with the Sustainable Packaging Coalition (SPC) and other industry members, the RecycleReady Technology reportedly helps converters create barrier pouches that answer consumer demand for more recyclable packaging options. Company says the new advanced barrier technology is a major advancement that enables the recycling of packaging for products such as granola and nuts, which it says was not possible before in flexible packaging.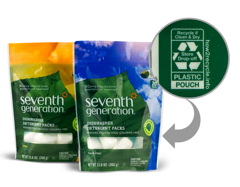 "Working together with the Sustainable Packaging Coalition and our value chain collaborators was crucial to achieving our RecycleReady Technology, which incorporates RETAIN polymer modifiers, a key enabler for the recyclability of the packages," says Stacy Fields, North America director, Packaging Solutions for Dow Packaging and Specialty Plastics.
According to the company, the stand-up pouch made with RETAIN polymer modifiers is the first package of its kind with barrier film that can be recycled in a PE recycling stream. When combined with other PE resins, the RETAIN compatibilizer is said to offer a recyclable solution with enhanced barrier characteristics.
Before this innovation, company adds, flexible barrier packaging posed unique recycling challenges due to the variety of materials generally used as part of its makeup, but converters will now have the ability to produce recyclable packaging with ingredients that ensure barrier protection, along with stiffness, toughness, and sealability of the package. These recyclable flexible pouches incorporate multiple layers but use only polyethylene as the basic raw material.
Dow reports RecycleReady Technology in North America has been approved by the SPC's How2Recycle (http://www.how2recycle.info) program to use the Store Drop-Off label. Plastic film, wrap, and bags carrying the Store Drop-Off label can be recycled at participating local retail and grocery stores.
In 2015 collaboration between Dow, the SPC, and packaging converter Accredo Packaging produced the Seventh Generation brand's first recyclable dishwasher pods packaging. The innovation was developed in response to customer comments that the product's previous packaging was not recyclable
"We are thrilled to be able offer this breakthrough barrier technology to our customers," says Fields. "This has never been done before, and it will provide new options for brand owners and retailers to offer recyclable packaging for many products that consumers enjoy."