Published: January 28, 2016
MINNEAPOLIS, MN | The new RECOCHET Alta from ecoEnvelopes LLC was developed in response to customer demand for reusable envelopes that insert from the top. It is functionally equivalent to existing commercial envelopes used by major mailers and their mail service providers. The Alta has a standard flap at the top for insertion, eliminating the need for mailers to re-orient their print stream, and an opening tear strip on the bottom, to maintain 2-Way functionality for direct mail marketing and statement mailing.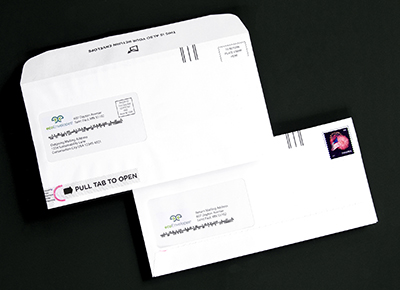 The company conducted successful focus group assessments at a senior's center with participants ranging in age up to 92. Participants uniformly said the envelopes were "easy to use" and a "good idea." They see the two-way RECOCHET Alta as a positive for themselves, the mailer, and the environment. The company intends to offer the Alta as a stock product, migrating current and future customers to this new, intuitive solution.
"Our new top-flap RECOCHET Alta is a game changer; it reduces hurdles to adoption and opens the reusable market to a broader range of mailers," commented Gale Ward, president and general manager. She added, "We are also proud to announce that the USPS has issued a National Customer Ruling on the Alta ecoEnvelope, after an official testing and approval process. The ruling provides customers with increased confidence that the Alta's unique design meets the most stringent qualifications for use in the US mail."
The RECOCHET Alta is a single two-way envelope that is sent and returned, eliminating the need for a second reply envelope. Mailers save 5%–35% on envelope and related mailing costs and benefit from operating savings and quantifiable reductions in carbon emissions, energy, and raw materials including trees and water.
Recently the RECOCHET Alta envelope has been awarded The Chicago Athenaeum's Good Design Award. The Good Design Awards selection recognizes new consumer products that enrich society and people's lives through design. Key factors include innovation, sustainability, creativity, branding, technology, packaging and universal design.