Published: May 11, 2012
APPLETON, WI | CMD offers the Model 1270GDS Global drawtape bagmaking system, said to offer production speeds to 600 fpm (183 mpm); a compact footprint;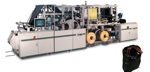 consistent, high product quality that is assured with retainable menu settings; and a large, color touch screen and centralized line control to simplify operation.
An Ethernet-based system allows for remote troubleshooting and programming, and easy-access hinged guards with windows and interlocked switches reportedly make the system easy and safe to operate. The flexible, modular design and sturdy tubular frame make it both durable and easy to move.
The system can be configured with the Model 0330HSW Global high-speed winder, which allows wound bags to be connected to each other by perforations, or each bag separated and overlapped onto the previous bag. Winder has a high cycle rate capability for small count rolls at high line speeds.