Published: January 31, 2007, By Claudia Hine, Managing Editor
Web Exclusive
In a Q&A with John Norder, Rohm and Haas business manager in North America for Packaging and Converting, he shares his thoughts on subjects ranging from feedstock and supply chain issues to fostering innovation in the industry.
Q. Since becoming a business manager for packaging and converting adhesives, what causes you the greatest concern?
A. Obviously, everybody feels the uncertainty of oil prices and the direct impact that brings to feedstocks and downstream derivatives. I am concerned about its impact on our business, but I am even more concerned about its impact on our customers' businesses, especially their film costs. Downstream customers, especially large consumer products marketers—the big users of packaging materials—are highly resistant to accepting price increases for their packaging materials. So it makes the challenge especially daunting for converters and their film, adhesive, and coating producers to find ways to minimize the downstream impact of these feedstock cost increases. That pressure on both ends creates a highly competitive marketplace. Everybody, especially the converter, ends up working much harder to optimize their products and processes to minimize the impact of these rising costs and retain their volume of business.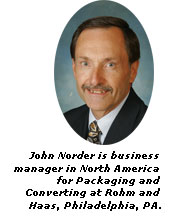 Q. Any other issues keep you awake at night?
A. Another concern I have is the difference we see in what has become a full-blown global supply-demand marketplace, a marketplace that is periodically hit with sudden imbalances in the supply-demand ratio. Producers really need to maximize their production rates to better manage costs. Where an operating rate of 70% to 80% was once typical, now 90% to 95% is more often the operating range. The result? There's no slack in the rope to absorb sudden increases in demand. So when demand in Asia spikes or production is disrupted by acts of nature, like Hurricanes Rita and Katrina, supplies are quickly disrupted and shortages drive prices up beyond what you would expect from feedstock cost increases. The marketplace is not accustomed to that. The concern is that the current business environment in the US is not conducive to encouraging the increase of domestic chemical industry capacity or minimizing reliance on imported oil.
Q. What interesting projects are on the horizon that might benefit downstream packaging customers?
A. Sustainability is a hot topic today. With ever-greater numbers of companies seeking to comply with customer mandates, they often need help in assessing the available adhesive options. The best approach, I believe, is to avoid looking over your shoulder and adopt a forward-looking view that embraces both the benefits and differences of new technologies and new products. Whether the answer is a water-based or solventless adhesive, both options eliminate the need for petroleum-based solvents, such as ethyl acetate, MEK [methyl ethyl ketone], IPA [isopropyl alcohol], and toluene. Converting to 100% solventless adhesives typically requires an investment in new coating/laminating equipment but often results in higher line speeds and lower overall production costs. With water-based products, applied adhesive costs typically will be less than solvent-based and generally will run on existing solvent coating/laminating equipment with minor adjustments. New Gen II water-based technology now will allow converters to replace their higher performing solvent-based adhesives. Everyone in our business needs to overcome any fear of replacing solvents with environmentally friendly products. The operating benefits and the downstream payoffs are just too great to overlook.
Q. How do you see the market for packaging products shifting?
A. The push for sustainable packaging is creating interest in alternative films. A prominent alternate film that the general population sees, but probably isn't aware of, is found in PLA [polylactic acid] packaging materials based on corn. The technology is not new but the ability to commercially blow it into films and tray stock is. Often today, when you go into a grocery store and you see organic lettuce or spinach in a tray, it's most likely a PLA tray. Finding adhesives that work well with PLA is keeping adhesive suppliers hopping. So, too, is the push for better shrink labels for beverages and pharmaceutical products for secure, safe seals that often carry government warning and labeling information. Converters now are being asked to improve the tamper-evident abilities of these wraps. So, they're looking to us for adhesives that work effectively in high-speed production lines that make the shrink label more permanent.
Q. Where do you see the greatest opportunities for packagers/converters to grow their businesses?
A. I don't think anyone can argue that "faster and more convenient" are key drivers in a huge percentage of our product selections today. Witness the rapid rise in retort packaging that enables families to have prepared rice from a pouch in five minutes instead of 35 minutes on the stove. Not too many years ago, our cars were solely devoted to driving. The reality today, although we don't endorse it from a safety standpoint, is that while people drive, they also talk on the phone, apply makeup, or electric shave. They and their passengers eat many snacks and meals in their cars. Detroit expends great effort making it more convenient and easier for passengers to safely stow their drinks in cup holders, eat from fold-down trays in the rear seats, and in general do everything in the car, including watch TV. Packagers and converters that look at this as an opportunity to design and build packages to meet this cultural phenomenon will be big winners.
Q. Safety, environmental stewardship, and packaging security have grown to be significant considerations for buyers. How can companies address these interests?
A. Responsible Care and Product Stewardship should be part of everyone's job. A company should be committed to communicate information on EHS [environmental health and safety] and security risks to its employees, the public, customers, and other stakeholders. The benefits to customers are products that can be used safely and that comply with all applicable regulations; knowledge of the hazards, appropriate handling procedures, proper use and disposal of product; and expert assistance to address EHS questions or concerns. In today's global environment, understanding the myriad of regional regulations and how they might impact a customer's business is also critical to bringing new products to market.
Q. What features or characteristics should a packager or converter look for when selecting an adhesives supplier?
A. Today, most suppliers in our business are both large and global. There are two main reasons why that is important: first, the ability to provide the same high quality adhesives to customer's operations around the world, allowing them to supply their customers with the same structures anywhere without the worries of a long distance supply chain, and secondly, to secure supply during periods of regional disruption. An adhesive supplier with this capability is able to use its global purchasing capabilities to move key raw materials between regions to compensate for production disruption in emergencies like we saw on the gulf coast region after Hurricane Katrina.
Q. Is it important to customers for a supplier to offer multiple adhesives technologies?
A. It's important because the customer gets the best adhesive for the application and their process capabilities, not a single-bullet solution because the supplier only happens to have a one-technology solution. Whether it's a water-based or solventless technology, or a traditional solvent-based product, it is best to provide the customer with the right choice, so they can optimize their package design and minimize the cost.
Q. What are the greatest business challenges for adhesive manufacturers?
A. Adhesives manufacturers must bring greater value to customers and routinely exceed their expectations to be selected as a primary adhesive supplier. As the world flattens, we must do whatever we can to enable customers to compete more effectively. Whether it's introducing new technology, helping them improve their operations, or simply training operators, an adhesive supplier must work as a partner with its customers to have a clear focus on the goal.
---
SUPPLIER INFO:
Rohm and Haas Co.—rohmhaas.com
---