Published: March 14, 2005, By pffc-online.com
PRESS RELEASE
IPSWICH, UNITED KINGDOM—Since doubling the size of its production facility several years ago, Ashe Converting Equipment, a manufacturer and supplier of standard and bespoke slitters, rewinders, and more, has announced that the company has seen record sales. Since Drupa, over sixty machines have been sold to customers in the US, UK, Germany, South Africa, Canada, Russia, Thailand, and China. One US company alone ordered five Sapphire St2 machines (a £1.5 million value) and another ordered nine Emerald rewinders.
Ashe's chief engineer, Keith Fordham, says that the launch of five new machines—the Sapphire S2 duplex slitter, the Sapphire St2 high-speed automatic turret machine, the Emerald 100% inspection rewinder, the Onyx low cost duplex slitter, and the Jade, a primary film slitter—have found ready markets.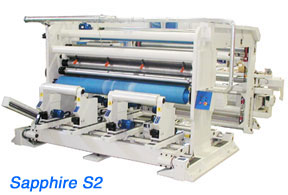 According Fordham, five Sapphire S2t turret machines are in the process of being assembled in the workshop for a US customer; seven bespoke Emerald machines are being constructed for speciality film applications, and a bespoke Sapphire S2 with corona treating facilities soon will be shipped to a South African flexible packaging converter. Other machines being configured include a high specification Sapphire, several Onyx machines, and an Emerald 100% inspection machine incorporating a machine-vision system.
For more information, visit ashe.co.uk.
---