Published: June 23, 2004, By pffc-online.com
PRESS RELEASE
OSHKOSH, WI, USA—Curwood reports its patented EZ Peel opening feature is now available in clear and foil retortable lids.
States the company's release about its patented product:
Curwood's EZ Peel opening technology gives consumers easier access to products because Curwood is able to closely control the lid's peel characteristics.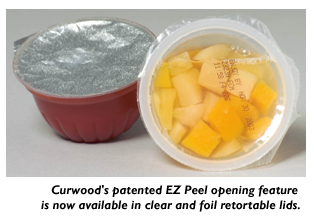 EZ Peel's proprietary sealant widens the lid's processing window by ±15° F while preventing "lock up" seals associated with other forms of peelable lidding. The retortable EZ Peel lid withstands the retort process while maintaining superior moisture and barrier protection.
The new lid allows customers an "easier peel" than competitive technologies, helping to avoid spilling and wasting product contents during the opening process. It improves safety—especially for children—by eliminating the need for sharp utensils to open the package.
More information about Curwood is available at curwood.com.
---