Published: May 10, 2013
CHICAGO, IL | ITW Muller, a manufacturer of stretch wrap equipment and high quality stretch wrap film, introduces the mobile GW-4100 robotic pallet wrapper. Company says product offers increased product protection and wrapping consistency, improves employee safety, reduces waste, and saves significant time and cost-savings over hand-wrapping.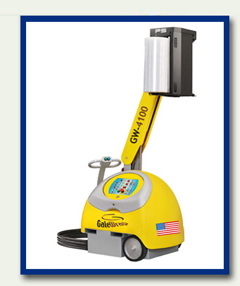 The wrapper offers speeds of 37 loads/hr and comes standard with a telescoping mast that allows for easy mobility, accommodating loads to 93 high. Built-in film cutter cuts film at completion of wrap cycles and minimizes risk of operator injury. Optimized for use with company's oriented film, the film tension can be adjusted electronically from the control panel.
The technology is said to be efficient and flexible. It can perform 300 loads/change, comes pre-set with 99 wrap cycles, and can be programmed with an unlimited number of options.
This email address is being protected from spambots. You need JavaScript enabled to view it.