Published: July 23, 2012
NASHUA, NH | NimCor offers air adapter chucks from that fits larger core sizes by adapting existing shafts or bars. Chucks are available in company's Rapid-Ship program to help reduce downtime.
Standard single- and dual-chuck sizes in diameters to 12 in. are in stock and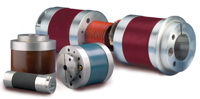 ready to ship. Air adapter chucks are said to be ideal for fast clamping to bars, spindles, or conventional shafts. A rugged, pneumatic bladder offers high-torque grip when inflated without wear or damage to cores.
Dual chucks employ a shared air supply through a quick-connect air hose. Clamping collars are available in both aluminum and steel.
This email address is being protected from spambots. You need JavaScript enabled to view it.