Published: February 29, 2012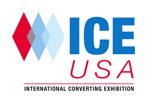 BURLINGTON, MA | With more than a year remaining before ICE USA 2013 at the Orange County Convention Ctr. in Orlando, FL, April 9–11, show organizer Mack Brooks Exhibitions announced that they have increased the show floor by 15,000 sq ft to accommodate demand for more space. Of the nearly 200 companies that have already reserved 90% of the original available booth space, more than a dozen have increased their booth size by an average of 98%. In addition, nearly two dozen companies that did not exhibit at the 2011 event have reserved space for the 2013 Show.
"We are thrilled with the enthusiastic response from exhibitors so far in advance of the show," says Bob Chiricosta, ICE USA show director. "Several more companies are also planning on expanding their booth space, and many other companies are planning on exhibiting for the first time." Chiricosta says many exhibitors at the 2011 event were so pleased by the results of the first show, they want to bring more equipment and running machinery to the 2013 ICE USA. He cited Double E Co. as one exhibitor that nearly tripled the size of its booth from 400 to 1,000 sq ft, and Deacro that expanded from 600 to 1,000 sq ft.
"We increased our space at the show because the company is growing rapidly," says Bret Hardy, marketing director at Double E. "In addition to our own web converting accessories, we also represent Re spa and Mario Cotta, so to do justice to this wide-ranging spectrum of complementary accessories, we will need more space. We also plan to showcase our evolving line of shafted rollstands and we think ICE USA is the best event to communicate to our audience that Double E is a total solutions provider."
Deacro's sales and marketing manager Keith Hamilton agrees. "Following Deacro's success at the last ICE show in Florida and due to our latest innovations and new slitter/rewinder products, Deacro has nearly doubled our exhibit space for the next ICE show. We are eagerly awaiting the 2013 show where we expect larger crowds, driven by the volume of equipment on display for attendees to see."
"As the economy continues to improve and the word continues to spread about the success of the 2011 ICE USA, we anticipate the 2013 event will continue to grow much larger," Chiricosta predicted. "Fortunately, we have the space at the Orlando Convention Center to accommodate the growth."