Published: November 07, 2013
FILDERSTADT, GERMANY | Herma announces an addition to the HERMAexquisite self-adhesive material range for wine and champagne bottle labeling. HERMAlux W label material (grade 326) is said to offer a cast-coated and high-gloss paper surface that produces an excellent print quality in all conventional printing processes.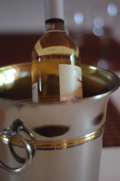 It is said to be especially suitable for high quality labels with discerning multicolor printing. Company says the material also stands out due to its good wet opacity, especially after an "ice bucket test" over several hours.
The complete HERMAexquisite range includes high quality structured paper with the adhesive 62W as well as different transparent and white PP film with the adhesive 62XPC.The adhesive 62W is multi-layered and said to provide special benefits for cool/moist conditions. Regardless of the label material that the processing company selects, the labels do not peel off even after a long water bath, company says.