Published: August 23, 2011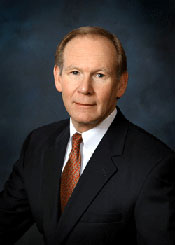 President/CEO of Star Packaging Corp.
Management style | Inclusive, open, and engaged
Hobbies | Fitness, golf, and reading
How did you get into the converting business?
I began in 1977 at Printpack in order management. They were recommended by Georgia Tech's Alumni Placement Center following the completion of my military service. I did not start with Printpack immediately, but following a 6-month stint with Otis Elevator, decided that packaging looked a lot more interesting and exciting.
What is your key to retaining good employees?
Make sure they understand expectations, provide support, recognize their contributions, and treat them fairly and with respect.
Are there specific challenges in your region to finding and keeping good employees?
There are challenges in every region, but opportunities as well. The key is to promote your business with b prospective employees the same way you'd promote your business to an attractive customer base. Retention challenges are sometimes confounding. It is important to understand why the person is tempted or driven to make a change and help them through the decision process. (The time spent pays dividends when they ask to come back.)
What is the key to growing a business in a bad economy?
As challenging as it may be, time and money have to be spent (albeit judiciously) to retain existing business, cultivate new business, and promote the unique values that your firm can offer. At the risk of using old clichés, it boils down to delivering on your promises, exceeding expectations, and making certain that the value delivered is appreciated. All of this takes good people.
What is the biggest threat to the converting industry right now?
This could be answered from a number of perspectives. Suffice it to say that we can be our own worst enemy if not competing responsibly. There will continue to be consolidation due to the need to invest in technology, and that investment will be one of the keys to driving value added products and services.
To what associations does your company belong?
Flexible Packaging Assn., AIB Intl., IOPP, R&DA Assn. (Troop feeding/MRE programs).
Is there any one that is particularly helpful to your business and why?
How do you handle a difficult customer?
Refer them to an irresponsible competitor (LOL, just checking to see if you're reading this….). Seriously, there tend to be reason(s) why customers may be difficult, and there's often a very good explanation. But until it's discussed one-on-one in a constructive manner, it will remain difficult and potentially damaging to an ongoing relationship.
What keeps you up at night with regard to your business?
Different things at different times. It runs the gamut – from financial to customer to operations to employee matters. I take a lot of ribbing about list making, but it's the only way I can clear my head for a few hours.
What do you know now that you wish you had known when you started out in business?
I don't need to have the answers, but I certainly need to know where to go get them, making sure to validate them. We've all made incorrect decisions based on the wrong information or assumptions, and what's most important is how one adjusts to or recovers from those mistakes.
Are there any management or business books that have influenced you?
Not one in particular. I find that the many facets of leadership all need to be nurtured by different influences. I'm currently reading Steve Farber's Greater than Yourself. For the past 12 years, I've attended The Leadership Forum at Georgia Tech, where six times a year, some of the best business thinkers and writers in the country speak for a morning. They all have written quite good business books with great lessons, from Jim Collins' Good to Great to Stephen Ambrose's Band of Brothers to Dan Ariely's Predictably Irrational.
What is the biggest mistake you made in business and how did you fix it?
I once hit "reply to all" on an email without thinking and wrote something that was critical of another person. It took a lot of damage control to undo the mistake. A number of years ago, I had an IT person put an auto prompt on any company emailers that hit "reply to all" that asked the question, "Are You SURE You Want to Copy Everyone on This Email?"
What do you enjoy most about your job?
Having the latitude to try different things, meeting new people, and helping people adapt to change.
What do you enjoy least about your job?
Travel
What was the best advice you ever got?
I received a boot jack as a gift about 20 years ago and on it was inscribed "If you ride a horse, sit close and tight; if you ride a man sit easy and light." Ben Franklin
What was the worst advice you ever got?
I don't remember it, but don't think I paid any attention to it.
What advice would you give to someone starting out in this business?
Ask a lot of questions, be a sponge, and find three or four people that you trust that are willing to help you to determine what to wring out of that sponge.
What are you most proud of in your business? If it's a family business, then is there something you'd like to add about having a family business, the family, etc.?
In my case, the story is just starting to be written.
Do you have a personal hero? If so, who is it and why?
Too many to count. I see so many heroic acts every week and hear or read about more on a daily basis.  However, my wife and my two sons are my personal heroes for the support they've given to me every day and for what they do for others.
Do you have a personal motto or mantra by which you live life or do business?
Practice the Golden Rule.
What does your company do for your customers that makes them come back to enjoy the experience of doing business with you again?
Deliver on our promises.
What do you feel are the key qualities necessary to be a successful leader?
Surrounding yourself with good people and giving them the space and support to do their jobs.
Creating an environment of trust and positive energy.
Acting as a beacon for the organization.
Willingness to take on the tough challenges and make decisions that may not always be the most popular.
Willingness to seek the opinions of others.
Giving credit where credit is due.
What, if any, sustainability efforts has your company made?
Energy efficiency through process and facility modification; development of products that replace energy scavenging packaging alternatives; development of products that provide transportation fuel conservation; development of products that are recyclable and biodegradable.
About Star Packaging Corp.
453 Eighty-Five Circle, College Park, GA 30349
www.starpackagingcorp.com; 404-763-2800
Originated with the founding of Master Packaging in 1956; 2 plants; 150 employees
Specialty | Flexo printing; laminating; pouches; rollstock