Published: July 01, 2007, By Edited by Claudia Hine, Managing Editor
Slitting/Rewinding
Elliott Absorbent Products serves demanding supermarket and retail chain customers with a line of nonwoven absorbent pads for the food packaging industry. Recently, the company's managing director, Matt Hankins, decided to bring all converting activities in-house to give the company greater control over its business activities and add value to its commercial offerings. That decision was not without risk.
"We had no real experience in slitting and rewinding," Hankins says, "and we didn't have any facilities for in-house roll converting. That meant we had to go to the market and shop around for the kind of machine that could handle our nonwoven materials."
Elliot needed a system for roll handling and manipulation of unwind rolls; crush and razor slitting; and rewound roll handling, including upending and packaging onto pallets. Specifications included a machine and setup that would comply with BRC/IoP (British Retail Consortium/Institute of Packaging) guidelines, unwind rolls to 1.7 m wide and 1.8 m outer dia (OD), and rewinding to 1.1 m OD.
A Local Hero
Double R Consol won the business not only on the strength of its competitive pricing but also because Elliott believed the proposed solution represented a cost-effective return on investment. Working in Double R's favor, too, was the fact that both companies are located in the Lancashire area of the UK. Double R supplied a DCS-110 duplex center-surface slitter/rewinder that converts rolls of laminate materials 1,700 mm wide x 1,800 mm dia and slits to a minimum width of 150 mm.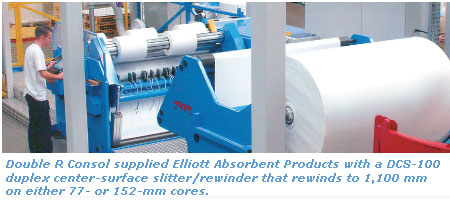 Another important factor in the immediate post-installation stages was the availability of Double R's staff, which was able to guide Elliott's operators through a crash course in slitting and rewinding technology as well as machine handling.
Double R's development of a handling solution for the large mother rolls was a crucial element in the overall installation. A grabber and manipulator were designed based on the forklift truck grab attachment principle to suit the tight space considerations in Elliott's factory. This means the unwind rolls can be loaded quickly and easily while a rewound roll upender rotates and stacks the finished rolls onto pallets.
Expanding Opportunities
With its increased production efficiency, Elliott is targeting the growing markets of Asia and Australia and says the new installation will play an important part in the production of Bulksorb, a new range of airlaid, high-capacity absorbent mats designed for use in the transportation of fish and other perishable ice-packed foods.
Now, in addition to offering short lead-time service to customers that require absorbent food papers on a narrow roll, Elliott offers quick turnaround service to companies that need slitting/rewinding outsourcing.
---
---
CONVERTER INFO:
Elliott Absorbent Products Ltd.
Unit 4, Blueberry Business Pk.
Kingsway, Rochdale, Lancs, UK
OL16 5DB
+44 (1) 706-643122;
elliottabsorbents.co.uk
SUPPLIER INFO:
Double R Consol—PFFC-ASAP 324.
drc.co.uk
---