Published: October 11, 2022
Established in 1990 and wholly owned by Adam DeFrancesco, OMNI Systems is "the largest privately-owned thermal media company in the U.S.," claiming to offer savings of up to 40 percent on high-quality label media from its numerous strategic locations across the US.
OMNI uses as ongoing program of investment that has seen seven new Mark Andy presses installed since 2019, all fitted with Martin Automatic MBS unwind/splicers. OMNI now has 20 Mark Andy presses installed parallel to each other from 7" (180mm) to 20" (510mm), and all are fitted with Martin MBS systems. Highlighting the repeatability of its volume business, OMNI says that one of its presses has run the same job, with only minor color variations, 24/7 for the past 10 years.
Renowned for its cost-effective production of secondary labels, it was only a matter of time before OMNI's customers began to apply pressure for the company to move into prime labels and offer a single-source supply.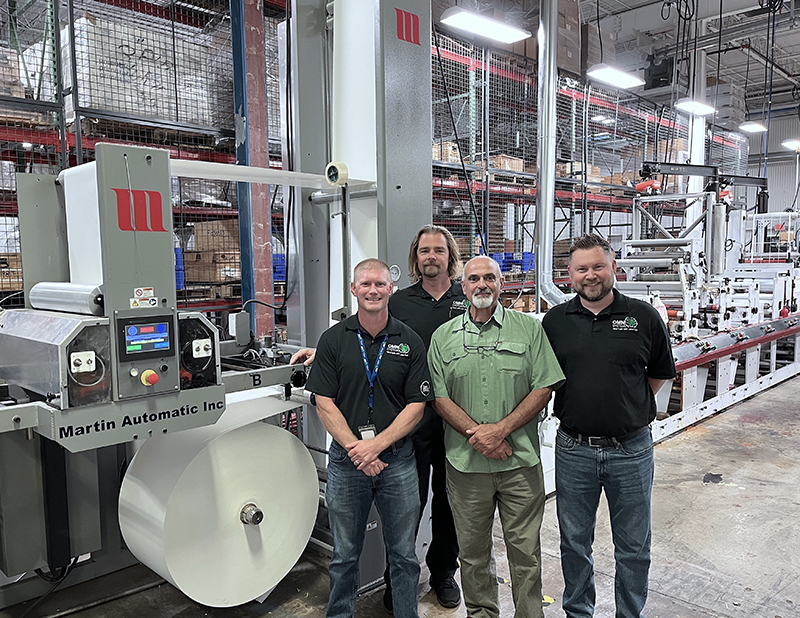 The result was the installation of a Mark Andy Performance Series P7E press earlier this year, fitted with a Martin Automatic MBS unwind/splicer, and the order for a second identical configuration, which is due towards the end of 2022. The latest Mark Andy presses have the 20" (510mm) web width and are fitted with Vetaphone corona treaters for film label applications, 10-UV flexo print units and turn bars. The Martin MBS units offer non-stop operation with built-in roll loading for a variety of substrates from film to laminate and paperboard, with a maximum roll diameter of 50" (1270mm) and top production speed of 300m/min.
For those unfamiliar with the 'butt splice' technique of Martin's MBS range, it is designed for web-fed applications where the end of an expiring roll is joined to the beginning of another. The two ends are trimmed straight and brought together so that the ends do not overlap. A thin tape, over the top or bottom of the splice, or both, holds the splice together, which is required in applications where the thickness of overlapping webs is unacceptable, like film or paper-based labels. The whole splicing process is performed without slowing or stopping the press to reduce waste and maintain print quality.
High efficiency goes together with sustainability at OMNI. The company is proud of its procurement process that sees more than 99% of its face stock sourced from FSC approved resources, and a similar figure for its adhesives that meet TLMI Recycling Protocols. On plastic materials, its label stocks pass the Association of Plastic Recycling's Critical Guidance Recognition for PET and HDPE. In the all-important food industry, OMNI is GFSI and BRC Certified, which among other things guarantees that labels won't peel to ensure safety and enable consistent barcode screening for accurate stock control.
As one of Martin Automatic and Mark Andy's leading combined U.S. installations, OMNI exemplifies the value of automating web fed production of high-quality work produced consistently at high speed.
Learn more at www.martinautomatic.com and www.omnisystem.com.