Published: March 30, 2022
Capacity expansion and modernization at the Simmerath site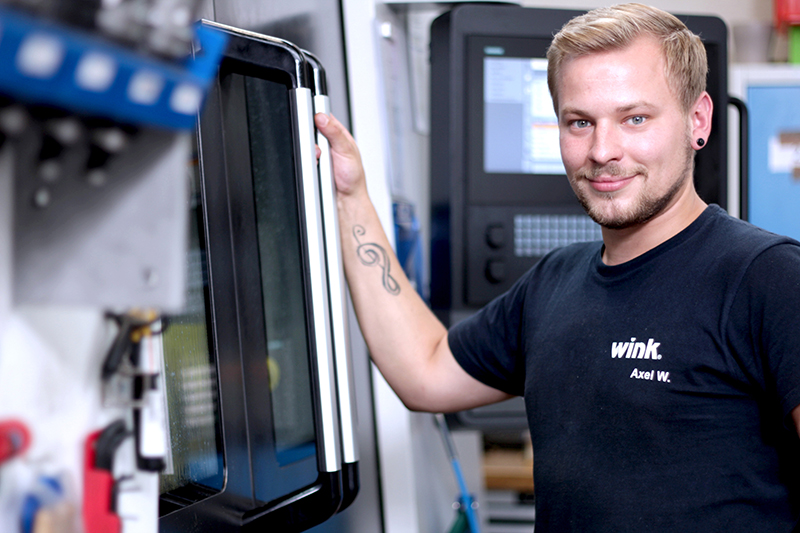 Die-cutting tool manufacturer Wink has further expanded and modernized its Cylinder Competence Center in Simmerath, North Rhine-Westphalia. By expanding its production capacities, the company is continuing its growth course and at the same time strengthening its position as a supplier in the printing and converting industry.
The Cylinder Competence Center was established in 2014 when the Simmerath-based cylinder specialist "FST Form- und Stanztechnik" became part of the Wink Group. The product portfolio includes a wide variety of rotary precision tools for the printing and converting industry. Wink's magnetic cylinders, rotary dies and anvil cylinders are used, among other things, to produce labels, packaging, medical goods, hygiene articles and automotive and electronic components.
Increased requirements in the label and converting industry
Speed continues to be a decisive success factor for labels and other die-cut products. The trend towards shorter runs and shorter product life cycles is unbroken, and at the same time the demands on die-cutting tools are increasing. For customers, minimum tolerances and maximum tool life are nowadays a matter of course. In addition, Wink's tools are often individually manufactured unique pieces that require a high degree of specialization and coordination.
Optimization of manufacturing
The machinery, especially the logistics and machining area, has been brought up to the latest state of the art. A sophisticated storage system ensures efficient delivery and allocation of the required resources. After the raw material has been sawn to size, the cylinders and components are processed in state-of-the-art turning and milling cells. For maximum precision, the cylinders are then ground to within a few microns, and the rotary dies are additionally sharpened. The production itself was also restructured.
Modern workplaces
With the investment at the Simmerath site, Wink is also strengthening its profile as an attractive employer in the region. The demand for skilled workers in the field of machining remains high. Wink therefore also relies on training its own workers. The site is not only state of the art in terms of machinery, but many of the needs of the employees were also considered. New washrooms and social rooms, modern offices and meeting rooms, additional parking spaces and a bicycle stand with e-charging stations were created.
After about two years of construction, the project will be finished in the summer with the completion of the outdoor facilities.