Published: February 19, 2020
GAMA International announced it is expanding its range of products, introducing a line of customized slitter rewinders for aluminum, film, paper and other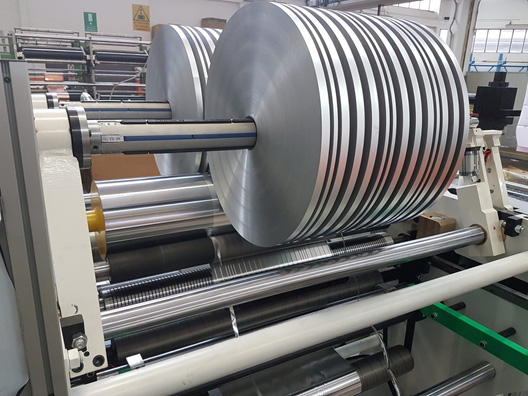 special machines for converting such as embossers, spoolers and extractors. The first occasion to show to the public the new solutions will be InfoFlex in Columbus, Ohio, on April 20th-22, at the Greater Columbus Convention Center.
At InfoFlex GAMA International plans to present on both GAMA America's and Pamarco's booths.
"We will show two lines of solutions: the viscometers and the new slitting-rewinding machines," said Elisa Conselvan, marketing director of GAMA International.
The new slitting rewinding products, distributed on a private label basis, include the TR-G1, a high performance single-shaft paper cutter, the new TR-U2, a double-shaft central-axial drum machine for bare and/or coupled aluminum, and the TR-B2, a double-shaft drum machine designed to have the maximum flexibility in processing any type of material.
One of the flagship machines is the TR-B2, an extremely flexible machine capable of cutting materials such as bare and/or coupled aluminum, copper, plastic films, non-woven fabric and others. The cutting widths start from 7/8mm up to the whole band. Furthermore, the machine is very compact and it is possible to apply various customizations to the basic configuration.
At InfoFlex GAMA International plans to show its viscometer line of products and will focus on the G31 for corrugated cardboard applications. After the launch of the G31 last year in North America, GAMA International has seen a growing interest in its products from the corrugated cardboard market.
"We started a cooperation with some press machine manufacturers, who saw the importance of ink stabilization to improve the printing quality," said Sante Conselvan, managing director of GAMA International. "We signed agreements also with Absolute, manufactures of the original woven carbon fiber dual-blade system for all flexo applications, and with BFT Flexo, a company that produces ink washing systems where we integrate our G31 viscometers".
For more information, visit www.gamaiec.com.