Published: July 06, 2017
ROCKFORD, IL | Martin Automatic will be exhibiting at Labelexpo Europe 2017, September 25–28, at the Brussels Expo in Brussels, Belgium. The company, known for its line of automatic splicing unwinds, automatic transfer rewinds, and tension control systems, will run demonstrations of the MBS automatic splicer and the LRD automatic transfer rewinder. The LRD will be fitted with optional features, some of which will be seen for the first time at the show.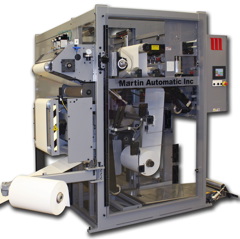 Company says the MBS splicer offers converters robust return on investment for premium label, shrink sleeve, wraparound label, tube laminate, pouches, and pharma packaging. The machine at the show will feature company's laser assist tape alignment system for easy splice preparation.
The LRD is a two-spindle transfer rewind that winds, changes, and automatically offloads rolls, without any need for carts or additional roll handling equipment. The unit at the Brussels show will include a web guide and slitter package for in-line slitting; a portability package for easy relocation between press lines; and an articulating arm to offload rolls through the front of the LRD if product rolls require special handling. The LRD rewinder accommodates rolls of 800 mm dia in the standard model, with smaller and larger diameter models available.
According to the company, the display will include the "splice closet" to show visitors not only the array of materials these two machines transport and splice every day but also the company's diverse experience in handling vast extremes of materials in the industry.
The Martin Automatic MBS and LRD machines at Labelexpo Europe have been sold to Desmedt Labels and will be delivered after the exhibition. This is a repeat order for the Belgium label company.
This email address is being protected from spambots. You need JavaScript enabled to view it.