Published: April 07, 2017
ROCKFORD, IL | Martin Automatic, a manufacturer of splicing, rewinding, and tension control systems, reports it has commissioned a custom automatic butt splicing unwind on a new line for coating heavy fabric materials. The MTB is designed to unwind and splice a variety of vinyl-backed fabrics to 1,854 mm (73 in.) wide, with a maximum thickness of 2.8 mm (0.110 in). The total installation comprises a turret unwind, automatic butt splice unit, and accumulator, but at the request of the customer, Martin developed several unique features for the system.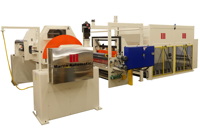 An inspection station following the butt splice unit enables the operator to examine the web for any flaws or imperfections from the previous process. To accommodate this inspection step, the company built an additional 30 sec (approximately 45 m or 150 ft) of web storage into the accumulator that was specially designed to fit under the drying section of the coater.
To accommodate the required tension range and special web characteristics, the company also designed and fitted a non-stick sleeve for the low-inertia carbon fiber idler rollers built to Martin's specifications.
With the high cost of fabric materials run on the coater, Martin equipped the splicer with its WRS Waste Reduction System. (http://www.martinautomatic.com/company.php) Company says the inclusion of WRS technology is significant because it maximizes usage of material master rolls and guarantees no more than 380 mm (15 in.) of web waste at the splice.
Bob Hoffman, Martin Automatic's regional manager, says, "Martin develops technology for a wide range of applications, and we're experts in adapting it to meet customer-specific criteria. This new splicer installation is a typical example of how [we] work with equipment manufacturers and end-users to provide the best and most efficient roll-change solutions for their business."
This email address is being protected from spambots. You need JavaScript enabled to view it.