Published: June 22, 2016
ROCKFORD, IL | Martin Automatic reports it has developed a unique working partnership over the years with KPB Europe, a manufacturer of narrow web presses that are designed for printing artificial casings, polybags, and films. KPG Europe is responsible for the worldwide sales and marketing of Euroflex casing presses, and Martin supplies the company with splicing and rewind technology.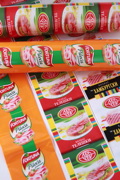 All Euroflex casing presses are based on a central-impression drum design. Utilizing single or twin drums and flexo printing, the presses can be specified for use with different types of ink: UV cationic and solvent-based inks for printing on single and multi-layered polyamides, or water- and alcohol-based inks for use on collagen and fibrous casings. The packaging applications for artificial casings continue to grow, says Martin, with pet foods, fruit purees, and fish being added to all types of meat products, including a huge range of sausages.
"Top print quality and reliability are key to the Euroflex philosophy, with many presses operating 24/7 requiring the Martin Automatic systems to perform at the same high production levels," says Jo Andersen, marketing director at KPG Europe.

The semi-automatic versions are fitted with two accumulators, two unwinds, and two rewinds. At roll change, the press slows to 25 mpm to allow the operator 45 sec to effect the change before ramping back up to full production speed. The fully automatic versions incorporate systems from Martin Automatic. KPG fits a Martin STS butt splicer with web festoon, and STR turret rewinder to provide non-stop production. Both systems are fitted on a rail system for lateral alignment of the web, with the STR also having an ultrasonic web guide.
The press is fitted with integral unwind and two rewinds and is an example of how the combined technology of Martin Automatic and KPG works to benefit the customer by providing production flexibility, companies say.
Martin's VP of sales and marketing Gavin Rittmeyer says, "Both companies have a high degree of expertise in their own fields of operation. KPG's customers supply markets where 100 percent consistent quality is the norm, and all elements of the technology chain have to meet or exceed the standards set. Only by working closely together can two machine manufacturers hope to achieve what the industry demands, and I am delighted that we have reached that situation with KPG."
This email address is being protected from spambots. You need JavaScript enabled to view it.