Published: January 09, 2014
CLARKSVILLE, IN | PRATI Co. offers the STARplus Series of glueless, stand-alone turret rewinders for the low-value-added label sector.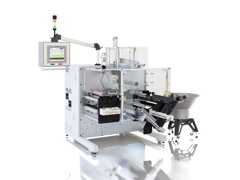 The rewinders are designed to operate nonstop in-line on any printing machine. Automatic rewinding tension control system, independent of the tension of the main machine, is said to ensure compatibility, even with outdated machines.
Company says advanced servo motion with integrated in-feed nip ensures greater precision, allows energy saving of 40%, and can be used in continuous multi-shift production cycles. Reportedly, machine process is smooth even with very thin ECO materials. Added benefits include a glueless hooking technology, compact design, and clean rewinding on lanes of the core, not requiring consumables.
Size changeover only takes a few minutes with a fully automatic slitting blade and label applicator control, and unit can be equipped with a broad range of accessories.
This email address is being protected from spambots. You need JavaScript enabled to view it.