Published: August 31, 2017
GREENVILLE, WI | Badger Plug says its new 61/4-in.-long H-Clip with gripping barbs is used to securely stack roll material suspended with 1-in. thick endboards.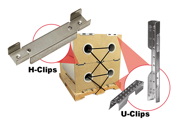 Company says this rugged steel H-Clip is economical and often ideal for smaller roll packages, adding that plastic and aluminum H-Channels that are popular for stacking endboards are available in various lengths and configurations as well.
H-Pack Systems offer complete components for suspending, unitizing, and securely interlocking rolls on a pallet, including endboards, sleeve plugs, H-Channels, steel H-Clips, and U-Clips.
This email address is being protected from spambots. You need JavaScript enabled to view it.