Published: July 17, 2015
ROCKFORD, IL | Xiamen Ying Shen Technology Company specializes in high-end, flexographically printed aseptic packaging for beverages. It was established in 2012 by gravure flexible packaging producer Xiamen Hanbang Packaging Products Company.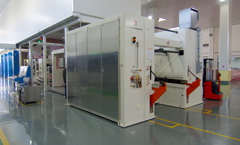 The company is very optimistic about the growth of the aseptic packaging market in China. Xiamen Ying Shen Technology's main customers include Yinglu Group, Nestle Beverage, Dali Food Group, Hui Er Kang Group, Mengniu Dairy, Wanglaoji, Nongfu Spring, and C'estbon Beverage (China). Chairman Xu Peixin says, "Our customers set demanding requirements for quality. To meet their strict demands, we must choose the best equipment and facilities that guarantee both food safety and attractive packaging."
Ying Shen Technology's new plant and equipment layout was professionally designed in accordance with international standards, and the hardware and sanitary facilities reportedly meet the highest food production hygiene requirements. They also chose what they say is world-class production equipment, including a Gallus inline flexographic printing press and nonstop unwind splicer and rewinder by Martin Automatic. The new press line was commissioned in November 2014.
Commenting on the company's selection of Martin equipment, Xu says, "Martin Automatic is a famous brand, with world-class machinery. After doing our research, we were convinced that Martin's nonstop unwinding and rewinding equipment will help us to improve productivity, reduce waste, and maintain product quality while meeting our production needs. In addition, Martin's customer service team is excellent, helping a new customer get into smooth production quickly. "
This email address is being protected from spambots. You need JavaScript enabled to view it.