Published: June 11, 2015
GORHAM, ME | Montalvo, international specialists in web tension control, has expanded its line of ES Series Dead Shaft Idler Load Cells (ES-I) with a new Size 1.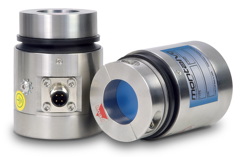 The new size joins the Size 0 and Size 2 load cells to provide what company says is a full range of dimensional compatibility to customer machines. With three sizes, the ES-I load cell reportedly can be installed easily into machines to replace existing load cells or within the dimensional requirements of new OEM machines. ES-I load cells are designed to be used in applications utilizing dead or idler shafts that require high quality and high performance load cells with longer service lives.
Applications specialist Larry Jones (https://www.linkedin.com/pub/larry-jones/47/161/980) says, "Especially in existing applications, customers are sometimes forced to work within specific dimensional confines. The new Size 1 ES-I Load Cell ensures our customers don't need to make any machine adjustments and can just drop it in and replace their existing load cells…."
Additional features of ES-I Load Cells include:
• Stainless Steel
• Superior Tension Signal
• Multiple Mounting Options
• M12 Connector
• Mechanical Variance Compensation
• 360-deg Overload Protection
• Wide Range of Load Ratings Available
This email address is being protected from spambots. You need JavaScript enabled to view it.