Published: January 08, 2015
BURNSVILLE, MN | Telstar Engineering offers a closed-loop tension control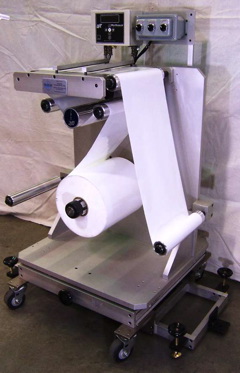 unwind ready for use on multiple presses. Solution is said to supply thin film laminates and secondary webs with precisely controlled tension values.
Reportedly achieves tension set-points as low as 4# and lateral adjustments of ±0.50 in. from the centered position, and design allows web unwinding in either direction, left or right. Unit can be carriage mounted on a rail kit or bridge mounted anywhere within a printing or converting process. It is also portable with added features for multiple press applications.
Handling rolls to 24 in. dia, it unwinds in either direction with no changes to the unit. The unwind brake has multiple pucks that can be switched on/off to accommodate rolls from 4 in. wide to full width. Features a splice table with pneumatic clamps and a razor slot for quick roll changes.
This email address is being protected from spambots. You need JavaScript enabled to view it.